Petty family adds to Speedway's agenda
Race track enthusiasts won't have to sit on the sidelines anymore.
Last week, Grant Lynch, president of Kansas Speedway, announced the racetrack's partnership with the Richard Petty Driving Experience.
This means that during four four-day periods in 2001, fans will be able to drive stock cars and to ride along with racecar drivers on the Speedway's 1.5 mile tri-oval track.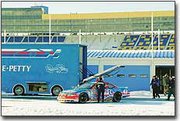 Lynch introduced Richard Petty's son, Kyle Petty, saying the Petty family is what's right about the sport of racing.
"This is the greatest family sport in the world," Lynch said.
Petty said his team is glad to be a part of Kansas City.
"We're hoping to turn Kansas City into a racing town," he said.
It's thrilling, he said, to enter a town that's relatively new to racing.
"It's important to me to go to a market where we haven't been," Petty said. "Where people can see the sport in person for the first time."
Petty said he thought the Richard Petty Driving Experience would bring fans to the track, and he joked about the ride-along experience, saying, "I've done it a couple of times and I let Richard Petty drive I wouldn't recommend it to you."
The dates of the Driving Experience will be April 20-23, July 25-29, Aug. 2-5 and Aug. 22-26. The program includes:

Ride-Along: Customers can ride shotgun for a high-speed, three-lap qualifying run in a two-seater stock car driven by a professional driver.
Rookie Experience: This three-hour program puts a student behind the wheel of a 600-horsepower Winston-Cup-style stock car for eight laps.
King's Experience: This extended driving program consists of 18 laps broken out into one eight-lap session and one 10-lap session.
Experience of a Lifetime: This 30-lap course allows participants to improve driving line and increase speed.
The experiences range in cost from less than $100 to about $1,200.