Tonganoxie youth want new bike park
Being bored is no new thing for children in a small town during the summer. When it's hot outside, they don't want to stay inside and watch television or read a book.
They want to go outside and play.
And Tonganoxie children have a pretty good idea of what it is that would relieve their boredom: a bike park.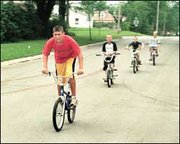 "I think a lot of kids around town would love it," said Jason Marks, Tonganoxie. "Almost all of us ride bikes."
What Marks and other children in Tonganoxie want is a facility similar to the one in Lawrence, which has a half-pipe that is open to bicycle riders, skateboarders and rollerbladers.
"We want a park with ramps and half-pipes and stuff like that so we can do tricks," said Curtis Marks, Jason Marks' little brother.
And though Tonganoxie has a swimming pool to give the children something to do, they complain that the fun of the pool is short-lived.
"All us kids get to do is go swimming and that's about it," Chuck Wilson said. "It gets pretty boring."
Some simply go where the fun is.
"Some guys go to Lawrence sometimes when they can get their parents to take them," Jason Marks said.
But the obvious danger of such a facility and the price tag it would carry make it unlikely that a park would be built any time soon.
In order for the dream of a bike park to turn into reality, it most likely would have to be built by and funded through the Tonganoxie Recreation Commission.
Construction of the park would require buying or leasing land, hiring a carpenter, hiring a landscaper and maintaining the park once it is complete.
And right now is not the best time to try to get the commission to begin such a project.
Mark Zerrer, commission director, said the group's plate is full.
Besides the time and money that has been spent, and is yet to be spent, repairing the damage caused to commission property at the Leavenworth County Fairgrounds by the May 11 tornado, the commission has been working to complete a new walking trail.
Earlier this summer the commission built a new sand volleyball court. In addition, it sponsors leagues, camps and activities for all age groups in may different activities.
"All this stuff is not cheap to keep up," Zerrer said. "And the building is only part of it. Once it's done, the facilities have to be maintained."
Zerrer said that recreation commission activities are funded through mill levies, program fees, donations and grants.
But with the summer being the busiest time for the commission and with funds being especially tight this year, the chances that the children will get their bike park are pretty slim.
But, even so, the children have already selected a likely spot for the park.
"Right next to Sonic," Curtis Marks said. "Then we could take some money with us and get something to eat if we get hungry."
The boys said that they have not contacted any city officials yet