Heath Bethard is carrying on a family tradition.
A second-generation stonemason, when Heath Bethard isn't working as a firefighter in southern Johnson County, he's likely to be found in his shop near Linwood, cutting designs into and lettering limestone fence posts from western Kansas.
Heath Bethard, the son of Bob Bethard, spends about two days a week doing this.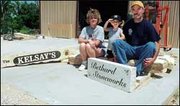 In the two years since starting this business, Bethard estimates he has sold from 700 to 800 fence posts.
He does little advertising, but has appeared at several craft shows and lawn and garden shows. Many of his customers are from this area.
But that doesn't mean that all the stones he decorates stay near here.
"I just sent one to Scotland," Bethard said. That one was smaller than most, weighing 50 pounds and carved from marble, he said.
Bethard said he's also sent stone posts throughout the Midwest and up into Montana and the state of Washington.
Most of the stones weigh from 300 to 500 pounds, and are transported by the customers themselves.
"We put them in cars," Bethard said. "One lady came out and had a new Lincoln and I put it in her backseat."
Bethard brings the stones from Russell on a truck.
"We usually go out and get 35 to 40 at a time," he said.
Helping Bethard with his business is his sister, Jenny Smith, who helps cut the designs and paints the stones.
In addition to the stonework, Bethard also sandblasts and carves mantles for some of the larger homes being constructed in the area.
Since starting with the fence posts, which by the way kept him busy during the last Christmas holiday season when 82 stone fence posts were decorated in 22 days, Bethard has branched out.
He will work on pre-cast concrete pieces such as those used at the gateways to subdivisions.
And more and more, recently, he's been asked to carve tombstones out of native stone. He said he's glad to take suggestions and carve them in stone. He also sets the stone for the family.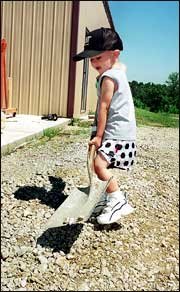 "People come up with different ideas," Bethard said. "I try to go with whatever they want."
Jenny Smith, who works there two days a week and brings her son, Garrett, 2, to help, said the work is fun. Garrett can run next door to visit his grandmother, Linda Bethard.
"It's not really like you're even working," she said. "Besides, it's nice that we can all have everyone in the family be together."
Then there's the lasting quality of the stone itself.
"We kind of take pride when somebody comes out and picks up their rock and you know they like it," Jenny said. "It makes you feel good."
Bethard agreed.
"Some of them like them so much that there are tears in their eyes," he said. "And you know that you're putting something out that's going to be there forever."