City's drinking water passes Kansas exam
The good news is: Toganoxie's well water passes the state's guidelines for drinking safety.
So does the water from Bonner Springs.
According to Tonganoxie's 1999 drinking water quality report, the nitrate levels in the city's water supply tested at 0.32 parts per million. State guidelines for maximum contamination level (MCL) say 10 parts per million would be too much.
Lloyd Wisdom, water plant operator, said other tests showed extremely low levels of barium, copper, fluoride, lead and selenium.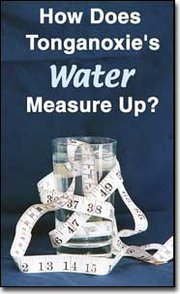 "Everything is below the MCL," Wisdom said. "Actually, it's way below."
Part of the reason for the good report card is that much of Tonganoxie's water comes from local wells.
"We use about 200,000 gallons of well water a day year round," Wisdom said.
To supplement the supply, the city also purchases water from Bonner Springs, treated water from the Kansas River.
"We're running about 50,000 to 60,000 gallons of Bonner water a day, or about a third of our usage," Wisdom said.
Meanwhile, the city's cost of treating well water remains low, Wisdom said.
"During the first three-month period of 1999, it cost $1,700 to treat 27 million gallons of well water," Wisdom said.
The water purchased from Bonner Springs is treated before it is piped from Bonner Springs. The city pays $1.75 for every 1,000 gallons of water purchased from Bonner Springs.
Summer water requirements increase somewhat, Wisdom said. For instance, during June, the city averaged 234,000 gallons per day.
Once the water is ready for use, pumps send it to Tonganoxie's two water towers. The tower on Hubbel Hill holds 300,000 gallons and the tower on U.S. Highway 24-40 has a 350,000 capacity.