When Jessey Hunter moved to Tonganoxie six years ago he was only 12 years old. A new school. New friends. A new life. His dream of playing college basketball probably seemed distant.
A few years later he seemed to be realizing his dream. He had started playing basketball for Tonganoxie High School. Although he was only playing for the junior varsity team, he was playing.
Then, after a sophomore year in which Hunter broke his hand, he left the team. Again, he felt like his dream to play college basketball was slipping away.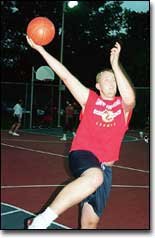 "I broke my hand, which put me out for awhile," he said. "After that, I just didn't go back."
But his love for the game kept him involved.
Though not playing for the high school, Hunter was far from a couch potato.
Attending summer camps to work on his skills and playing in leagues, such as Lawrence's Danny Manning league, during both the winter and summer, Hunter gained more basketball exposure than he might have had of he had only played high school ball.
But the dream probably still seemed distant. After all, who ever heard of a college team recruiting a player who never had played on the varsity team? The chances of it happening were slim.
But it did.
"It's been a lifelong dream of mine to play college basketball," Hunter said.
While walking down the hall at Tonganoxie High School this spring, Hunter, then a senior, noticed a flyer on the bulletin board that announced an upcoming basketball tournament, the Great American Shootout.
"So I decided to go to it," he said.
Though playing with influenza and an empty stomach, the 6-foot-6-inch, 260-pound power forward made his skills known at the shootout.
The tournament, which draws talent from all over the Midwest, also draws college coaches hoping to score an overlooked recruit. That's why Eric Glenn was there.
Glenn, the new head basketball coach at Missouri Valley College, a division II school in Marshall, Mo., said when he saw Hunter play, he was impressed with his size and his presence on the court.
When he talked to him, Glenn said he knew Hunter was smart and a hard worker, too.
"Obviously in basketball, size is a big factor," Glenn said. "But when I talked to him, I found out he was a quality person who would fit in real well with the team."
Glenn said that he tried to recruit players who had goals and ambitions for later in life.
"Jessey definitely fit that mold," Glenn said.
He also matches well with the Viking team of the future. One of five freshmen signed, it's possible that Hunter could see action soon, as Missouri Valley is returning only five members of last year's varsity team.
Of the incoming freshman, Hunter is the biggest. His 260 pounds adds some beef to a recruiting class of two guards and two 6-feet-7-inch tall but skinny forwards.
"Right now, the fact that he's so big will give us help on the boards," Glenn said.
Glenn said that with Hunter's work ethic and intelligence, being big was an advantage because it would give him time to learn the more subtle areas of the game.
"But you can't teach size," Glenn said. "We can help him with developing his game."
One part of his game that Hunter will need to work on is his full-court game. Glenn said that he likes to run plays on both offense and defense that focus on an up-tempo style of game.
Usually big guys are more comfortable with the focus being on half-court sets. Even Hunter admitted that the adjusting to the playing style would be the toughest thing for him.
But Hunter, who has spent much of his free time this summer playing pick-up games in Lawrence, said he is also working on his speed and agility which is good training for the type of game Glenn plays.
Glenn said he believes Hunter has what it takes to bring his game to the college level.
"I think Jessey will fit in," Glenn said. "He has a lot to learn, but he's a hard worker and I think that'll help him get into our system."