Tremendous transformation
Chainsaw artist rejuvenates damaged trees
As the chainsaw screams and sawdust fills the air it's another Kansas tree coming down typical procedure for a post-tornado town.
But for at least four trees in the area, some of these former masters of shade have taken on a new designation chainsaw sculptures.
Russell Ehart, McLouth, has now carved the trunks of four tornado-damaged or diseased trees into representations of an American Indian, Daniel Boone, a bear that is stretching to snatch a fish from the talons of an eagle, and St. Francis of Assisi. Depending on the size of the tree, the carvings are usually lifesize or larger.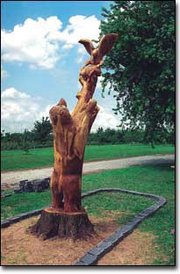 Ehart, 43, said he began carving wood about 10 years ago. A construction worker, Ehart had injured his back about two years before that. Ehart, who had been operating a chainsaw for years, hoped he eventually would be able to turn his artistic talent into a trade.
When the May 11 tornado twisted a Siberian elm on west Fifth Street, Ehart was asked if he could carve the trunk into an American Indian to represent the town's heritage.
Ehart still laughs about the stick-figure art he was given as a design. But somehow he was able to see the idea and within five days, he had buzzed his way through his first Tonganoxie chainsaw sculpture.
After that, Philip and Betty Stevens commissioned Ehart to carve a representation of Daniel Boone on a tree damaged by the tornado at the corner of Pleasant and Laughlin streets. Again, within a week, another sculpture arose from the destruction.
Next came a request from Elden and Jan Bailey, who live near Reno. An American elm tree was dying from Dutch Elm disease, Jan Bailey said.
"I went down there and looked at the tree and told Elden what I could see in it," Ehart said.
"Originally, it was just going to be a bear and an eagle, but we added the fish, because otherwise why would a bear be swatting at the eagle," Ehart said. "I didn't know then that Elden was a top-notch fisherman and, boy, was he particular about that fish."
The carving is a stautesque 18-foot-tall work of art and the Baileys are pleased with it. So pleased that Jan Bailey's son, James Smith, is building a flower bed at the base of the carving. Bailey said she plans to install a fountain that goes along with the statue's outdoor theme. The work has attracted attention, even in this rural area.
"We've had people driving by, then they stop and come back to look at it," she said.
Ehart grins when he describes how he plans his carvings.
"I don't know really how I do it," he said in his midwestern drawl. "I just look at the tree and see what I can get out of it.
"You just have to be able to see the outer boundaries on it so you know how much to carve. You don't want to run out of wood."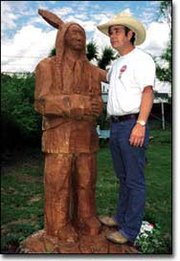 His favorite stage of the work is when the design is roughed in, he said.
"It's beyond the start," Ehart said. "It's closer to the end when it all starts to come together. I can see it from the beginning, but most people don't and when they can start to see it it's nice to hear their positive comments."
Last Thursday, Ehart started on a sculpture at the rural home of Jean Knipp, who asked him to carve St. Francis of Assisi from a red cedar tree destroyed by the tornado.
Knipp said she contacted Ehart after seeing his sign in front of the American Indian on west Fifth Street.
"I'm watching him out the front window," she said. "It's fascinating to watch him carve that and to see how good he is with the chainsaw."
As for Ehart, he'd like to turn this work into a full-time business. With all the trees in the area that were damaged by the tornado, he said he's hoping there will be more trees to carve.
And, if work arises in other areas, Ehart said he and his chainsaw will go.
"I'm ready to travel with it," he said. "Wherever somebody's got something they want carved, I'll go and do it."