Tonganoxie volunteer firefighters know how to turn up the heat.
On Saturday, 11 firefighters set fire to a house that was damaged in the May 11 tornado - and then used it as a training ground. The fire caught the attention of many in the area as black smoke rose from the home.
The heat of the fire - as well as temperatures that were on their way into the 90s - took a toll on the firefighting team.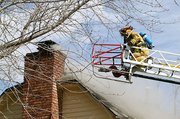 "It went very well," said Charlie Conrad, fire chief. "I can tell you that after an hour and a half they were through. It was terrible. What we were getting was 1,100-degree temperatures within 48 inches of the floor. Those were burning gases. It was about 150 degrees close to the floor."
The house, owned by Chris Folsom, was heavily damaged in the tornado. Folsom, who watched as firefighters participated in the training, said he hopes to rebuild - although he's received offers from the Leavenworth County Fair Board to purchase the property.
For a volunteer department, the opportunity to practice search-and-rescue techniques is valuable.
"We don't have a lot of fires," Conrad said. "It is a practice, but it's to find out who can become claustrophobic because you go into total darkness. It's not a requirement that you have to enter these on the volunteer system. You find out what partners can work together. What you're preparing for is search and rescue."
The firefighters' mission as they crawled through the back door of the home was to find the base of the fire and douse it with water.
"We went in 12 different attacks," Conrad said. "? They knocked it down and came back out."
The men took a beating because of the high heat and humidity in the air on Saturday.
"You can easily understand that you dehydrate so quickly," Conrad said. "We learn. You don't get this opportunity very often. You've got to take advantage of it. It was hot, and we wanted to get it in during the morning and get it over with. Our game plan was to be done by 9 o'clock, and we were."