New coaches, new program, new discipline new results?
After one victory over the course of two seasons, the Tonganoxie football team was due for a change.
The community and fans were ready for a season with a winning record, or at least one with more than one win.
The school was ready for a change, too. Bringing in new head coach Mark Elston was the first step.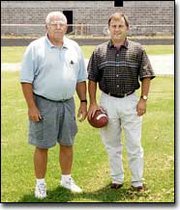 When school board members approved Elston's hiring, they knew they were getting a high-quality coach. However, what board members did not know was that Elston would bring more than a discipline-oriented coaching style to the team.
He also brought his father.
Hired last week, Don Elston joins Mark Elston and assistants Bill DeWitt and Matt Bond on the sidelines for the Chieftains this season.
Don Elston is no stranger to either the Tonganoxie football team or to coaching.
Playing for the Chieftains back when they played at the Leavenworth County Fairgrounds, Don Elston graduated from Tonganoxie High School in 1953.
After high school, Don Elston joined the U.S. Navy.
After he left the Navy, he attended the University of Kansas where he earned bachelor's degrees in history and physical education.
He then taught and coached football at a couple of schools until he was hired in 1975 as head football coach at Hickman Mills High School in Kansas City, Mo.
After 16 years as the coach there, Elston retired in 1991.
Spending the last few years working as a salesman in a Bass Pro shop and part-time for the Kansas City Star, Elston found he was working almost as much as he had before retiring.
"When he retired, he was kind of burned out," said Mark Elston. "But since he's been here, he's been really intense."
Don Elston, 64, said that much of that intensity has been inspired by the team.
"Working with these kids has rejuvenated me," Don Elston said. "I've been pleased with how hard they work. The kids are just really to be commended."
Mark Elston said his father was the right person for the position for several reasons.
"He was the obvious choice," Mark Elston said, "He's got great experience and a tremendous amount of knowledge about coaching and people. That's invaluable in a coach."
But the father-son tandem also brings two other aspects to the team: years of working together and a shared conviction that order, discipline and clear expectations are the key elements to a successful season.
Don and Mark Elston will find that they are on the same page on many things. Besides having Don Elston as a constant influence throughout his life, Mark Elston also spent time assisting his father at Hickman Mills.
"But he's doing a whole lot more than returning the favor," Mark Elston said.
"He's really excited and has got a spark to go."
The two have very similar coaching styles.
Order dominates the revamped team. All the players wear the same thing under their pads, and the same color shorts and shirts during practice.
Questions, answers and statements are followed by "sir."
The two men said that by keeping things simple, team members would have less to think about. They know what is expected and what will happen if those expectations aren't met.
The two coaches said that their intense and focused approach to the game is something the Chieftains have been missing.
"Just from what we saw on film, camaraderie and team unity seemed to be a bit lacking," Mark Elston said.
But even with the new coaching style that the Elstons bring, the team still needs to make it over the psychological hump of having suffered through losing seasons.
Mark Elston said he didn't think that would be too much of a problem for this team.
He said that because only about one-third of the team are juniors and seniors, most players weren't on the squads that had to endure the recent losing campaigns.
Instead he pointed to the successes of the eighth- and ninth-grade teams.