Soetaert sells printing company
In a few weeks, Kay Soetaert will hang up her printer's apron.
Soetaert, owner of Legal Printing and Powerhouse Graphics, has sold her business to a Stanley couple, Russell and Nai-Ying Wesley. The ownership transfer takes effect July 31, and Soetaert will work at the business until Aug. 31.
For the past several months, Soetaert had considered selling the firm she established more than 20 years ago.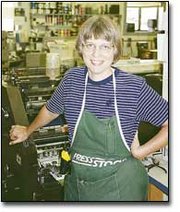 "I had been toying with the idea for a while," the 46-year-old said. "It's our 25th year. My husband's been retired for several years. I had started putting feelers out in March, and these were the first people who came along, and it was a match right off the bat. It transpired within the first 24 hours. I feel like I couldn't have gone out and molded a better match."
For Russ Wesley, the purchase of Legal Printing is a dream-come-true. During the past 13 years, he's supervised the print shop at Kansas City, Kansas, Community College. He's been involved in the print business since he joined the U.S. Navy in 1969.
Wesley, 49, said he hopes the transition will be seamless for customers and the company's nine employees.
"We hope that other than introducing myself that is the only change there will be," he said.
Soetaert has been a cornerstone in
the Tonganoxie business community for a number of years. She traces her printing roots to Jean Neibarger, former owner of The Tonganoxie Mirror.
Neibarger hired Soetaert when she was in eighth grade.
"Every summer, he'd enlist a group of girls to put together the fair catalog," she said. "Actually, I think it was a way to see who was a good worker and who wasn't."
Anyone who knows Soetaert knows that she passed Neibarger's test.
She continued to work at the newspaper office until she graduated from Tonganoxie High School.
"I really didn't know what to do," she said.
So Neibarger called a friend who was teaching printing classes at Pittsburg State University.
"I didn't really want to be a printer," she said. "It was just a fluke."
After graduation, she returned to Tonganoxie, where she started a printing company with Neibarger. The business operated out of the basement of the newspaper building, 613 E. Fourth Street. About three years later, she said, she and her parents built the building at 520 E. Fourth, where The Mirror now is located.
"My dad said, 'If you're going to run a business, you're going to have to run it right,'" Soetaert remembers. "That was really the turning point. He was right."
Soetaert credits her parents Bill and Lois Emery with providing support to her during her years in business. Her mother still helps out at Legal Printing.
"I'm going to retire and let her off," Soetaert said.
In 1990, Soetaert had outgrown her Fourth Street building and moved to the company's present location on Front Street. She also purchased a shop in Shawnee, which the Wesleys obtained in the sale.
For now, Soetaert is ready for a change, and ready to spend more time with her husband, Jerry.
"I was always working," she said. "That's why I'm tired. It's time to do something else. I really don't know what I'll do. I'm just going to try to find out what I like to do play some golf and do some traveling."