Elise Grinter worked her needle around the pink and white pattern of the quilt stretched out in a frame before her.
"I've worked on quilts most of my life," Grinter said. "No one in my family quilted, so I just did it myself."
The 95-year-old quilter is the founder and oldest member of the Riford Quilting Seniors. She said she started the quilting club when the Florence Riford Senior Center opened about 20 years ago.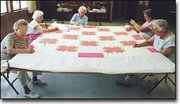 "The idea was to make money to help with the upkeep of the center," Grinter said.
Quilter Agnes Kissinger said the group meets at the senior center every Tuesday and Friday and work all day.
She said people from around the area and as far away as Arizona bring in their own patterns and supplies. The quilters do the rest.
An average-sized quilt will take the 10-member quilting club between three and four weeks to complete, Kissinger said.
"We usually charge $100 or so, depending on the size and difficulty of the quilt," she said. "Sometimes people give us more because they're so happy to have the quilt."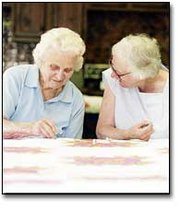 She said the money they make is donated to the center.
"The quilters give a check every year to cover the costs of the building," Kissinger said. "It really takes a lot of money to keep this building going."
Quilter Frances Jeannin said quilting always has been a part of her life.
"My mother always had a quilt in the frame when I was a child," she said. "I can't remember a time when she didn't have one going."
Even though she grew up around it, Jeannin said she didn't start quilting until she was older.
"When I started quilting, my mother was in the nursing home. I'd quilt when I was sitting with her," she said.
"I'd tell my mother, 'Mine just isn't as good as yours.' She'd say, 'Keep at it, it will be.'"
Even though she doesn't think her quilting skills are on par with her mother's, Jeannin said she is still learning.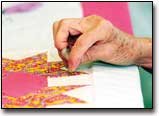 "We sure learn a lot about quilting from each other," she said. "It's really something you can enjoy. It grows on you."
Nadine Moore, who has been quilting for only four years, said even though quilting isn't the most difficult thing to do, it does take some practice.
"It's not something you can pick up in a day," she said. "I think you have to really work at it."
Moore said club members talk about more than just quilting when they get together.
"We discuss all current events, everything we see on television and things we think of," she said. "We've already solved all of the world problems."
Kissinger said the fun of quilting as a group is the fellowship among the women.
"We just love to visit with each other," she said. "We really enjoy each other's company."