Teams battle in tournaments
Ballparks in Tonganoxie and surrounding areas buzzed with activity last weekend as crowds gathered to watch summer-end baseball and softball tournaments.
Some of the best action could be found in the 11-12 age division.
At the weekend's 11-12 age division baseball tournament held at the Leavenworth County Fairgrounds, Tonganoxie ball club City Ford was the hot team.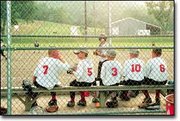 It walked through the double-elimination tournament, beating its opponents by an average of nine runs per game.
City Ford beat the Linwood Lions 18-3 to win the championship game.
Another Tonganoxie team that played well in the tournament was Mr. Goodcents.
After making it to the semi-finals without a loss, Mr. Goodcents gave City Ford its best game of the tournament, but finally lost the defensive contest 7-5.
The Linwood Lions, on their way to the championship game, then handed Mr. Goodcents its second loss, winning 10-4.
Tonganoxie teams Quarles Trash Service and First State Bank finished with records of 0-2 and 1-2, respectively.
Up the road a few miles at Basehor, some 11- and 12-year-old girls were also putting on a show.
In a tournament that featured two teams with only one loss apiece they only lost to each other it's no surprise that the two teams ended up in the final game battling for the championship.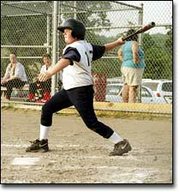 Both Tonganoxie's Sertomas and Bonner Springs team two feature stifling defense and the ability to explode on offense.
In its first game, Sertomas showed a little of both when it held Bonner Springs team one to few hits, while putting on an offensive show punctuated by an in-the-park homerun. Sertomas won that game 11-2.
Sertomas also won its second-round battle against Tonganoxie's Community National Bank.
Winning 8-5, Sertomas relied on hot hitting to win the competitive contest.
Sertomas was then sent to the losers' bracket by Bonner Springs team two, when it avenged its only loss of the season, beating the league co-champions from Tonganoxie 7-2.
Sertomas then beat Tonganoxie's River City Gardening 13-6, and advanced to the final round where it again lost to Bonner Springs team two, this time 10-0.
In another tournament at the fairgrounds, a Tonganoxie 9-10 age division baseball team dominated.
Leavenworth County Co-op went undefeated and came back from a 6-1 deficit late in the championship game to beat a tough Lansing squad 7-6.
Although her team had to score six runs in a short time period to win the game, Coach Jackie Brown also gives much of the credit to the defense, which stranded several Lansing runners late in the game.
Brown said that her team finally began to reach its potential at the end of the year.
"During the season we kind of fell apart," she said. "But our team really came together in the tournament. We played like a team."
The No. 1 seeded Knights of Columbus finished the tournament 1-2. Midwest Health Center and Vet-Vax also finished 1-2. Himpel Lumber finished 0-2.
In the 7-8 age division baseball tournament in Linwood, the home team dominated, going undefeated on its way to the title.
Preferred Foundations tied with Evans Real Estate for the best Tonganoxie record at the tournament. Both teams finished 3-2, and Evans Real Estate got second in tournament after losing to Linwood in the final game.
American Family Insurance finished with a 2-2 record, while Kaiser-Slawson and Dr. Richard E. Dean finished 0-2.
In the 7-8 age division softball tournament at the fairgrounds, Chappell Hill Sewing made it all the way to the final game before falling to Basehor, which just squeezed by, winning 10-9.
This was right after Chapell Hill Sewing itself just had won a close one, beating Triple Creek Realty 11-8 in the semi-final round.
Both Henri Masonic Lodge and Tonganoxie Civic Club lost in the first round.
At press time the 9-10 age division softball tournament at Basehor, the 13-14 age division softball tournament in Lansing and the 13-14 age division baseball tournament in Bonner Springs were not completed.
See next week's edition of The Mirror for results from those tournaments.