In its first year as a ribbon event at the Leavenworth County Fair, air-gun shooting drew 24 area children to the fairgrounds last Saturday.
Seventeen of them won purple ribbons the highest award. Five won blue ribbons and two won reds.
Participants at the event had to shoot at a piece of paper with 12 small bullseyes on it from 10 meters away.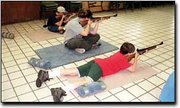 To earn a purple ribbon, participants were required to place three shots close enough together to fit a dime over the top of them.
To win blue, the grouping had to be small enough to be covered with a quarter. The measuring stick for a red ribbon was a half-dollar.
"Consistency is the key," said Randi Lutz, Leavenworth County shooting coordinator. "You have to hit the same spot over and over."
She said that once a child learns to hit the same spot every time, she or he will be able to home in on the bullseye by making small adjustments to the front and rear sights.
But the ribbon tournament is only part of the event. Children have been learning about their air rifles and shooting since January.
Children learned how to behave on the shooting range. They learned how to shoot from a standing, a sitting, a kneeling or a prone position all of which are allowable positions at official 4-H shoots.
Lutz said although learning how to shoot a gun was important, being careful with it was even more important.
"In the basic class, safety is our number one priority," Lutz said.
This year, instruction for the three shooting sports archery, shotgun and air rifle was only offered at the basic level, but Lutz said she hopes she and the instructors could add intermediate training when classes start back up in the fall.
The Lutz family has been crucial in the first-year success of the shooting program.
There is Randi, who became the shooting coordinator because she shot competitively as a child and because her children wanted to do the same.
Then there is her husband, Steve, who became the first shooting instructor.
Then there are children Anthony, Matthew and Joseph, all of whom are involved in shooting sports through the 4-H program.
Randi Lutz said: "4-H allows them to experience programs that they might not otherwise have the chance to do."
The shotgun and archery events will be from 1 p.m. to 3 p.m. Saturday at Tri-County Gun Club in Bonner Springs.