Bonner Springs course offers long shots, tough putts
Editor's note: This is part of a summer-long series highlighting golf courses in the Kansas City metro area. This week, we take a look at Sunflower Hills Golf Course in Bonner Springs.
Located in the shadows of the Kansas Turnpike, Sandstone Amphitheater and the Agricultural Hall of Fame, it's quite easy to overlook or forget about Sunflower Hills Golf Course.
But once you've played it, it stays with you.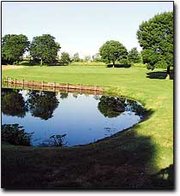 It's truly a memorable public course for a number of reasons, including the fact that it's long and unforgiving. There's also plenty of sand and a good number of water holes. By the way, did we mention it's long and unforgiving?
"You play a round of golf here and you're going to use every club in your bag," said Jeff Johnson, the PGA professional at Sunflower Hills.
Every club in your bag. Just about every ball, too. And you still might come up short.
It's a golf challenge worth exploring. It's well worth the 30-minute drive up K-7 and more than worthy of the $23 price tag for a round of golf. Simply put, if you're looking for new challenges, Sunflower Hills is a place to put at the top of your "Courses I need to Play" list.
Nine holes have water hazards, while there are 36 bunkers some on the fairway adding treachery to a course that already features narrow fairways, large mature trees and a thick rough.
Unfortunately, vandals broke into the course twice last week after hours and caused a great deal of damage on a few of the greens when they drove golf carts on them. The course's maintenance staff worked hard to get the greens back to normal, but don't count on them being back in top form until later this summer.
Until then, Sunflower is still a course worth looking into because of a number of holes.
Hole No. 2 is a 499-yard, par-5 that can be turned into a birdie with two magnificent shots. The landing area on this slight dogleg to the left narrows considerably, but it takes a couple of long and thus, accurate shots to get there in two.
With water to the left of the green and a bunker to the right, those trying to get there in two are going to have to be fairly precise. The smart play is to lay up, get there in three and putt for your birdie, but the urge to let it rip and take a crack at an eagle often overtakes common sense.
The par-4, 388-yard fifth hole offers an interesting decision for a player. A fairway bunker is the obstacle located at the dogleg left. If you clear the bunker, you're less than 150 yards (uphill) from the pin. If you choose the safer play and take the bunker out of the equation, the second shot is considerably longer.
Do you go for it or play it safe?
The back nine features a number of tee shots where water comes into play five of them, to be exact. Why is it that a ravine or pound located in front of a tee box will cause many golfers a jitter or two?
After all, it's only a golfball. They're relatively cheap. And one more thing there is a reason they come three to a sleeve. But golf is a psychological game. If a pond in front of a player has him or her distracted, there is a pretty good chance that ball will find water.
That's part of the Sunflower challenge.
It's all about blocking out the negatives and concentrating on hitting the ball correctly. Easier said than done, in many cases.
The 480-yard, par-4 15th hole is scary because it is so narrow. Trees line a fairway that goes downhill and then back up a hill to a green protected by bunkers. Escaping this hole with a par is an accomplishment.
The par-5 17th hole is the longest on the course. The 569-yard hole requires a tee shot to clear water. Like many of the holes, the fairway narrows as it continues toward the pin. In other words, the long hitter is often penalized. In all likelihood, it's going to require a minimum of three good shots a tee shot, a fairway wood or long iron and a short iron before you're putting. Keep in mind that with bunkers on both sides of the green, a premium is placed on length and accuracy.