City smokes during barbecue
Imagine cooking 700 chicken halves in four hours with the smoke carrying the distinct smell of barbecue throughout the community.
The Linwood Lions' Club hosted its annual chicken barbecue Saturday. With ideal weather and people gathering from around the area, the barbecue was the perfect summertime meal with chicken, baked beans, cole slaw and treats. It was another successful fund-raiser for the Lions Club.
The annual Chicken Barbecue has been smoking since 1972 and Casey Jones, barbecue chairman, has continued to man the operation.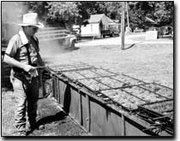 "We've been having plenty of luck having it the last weekend in July every year," Jones said. "Rain has never been a problem."
On average, the barbecue has provided about 600 meals.
"One year we had over 900 halves cooked," Jones said.
"We serve everyone we can," said Greg Aytes, club president. "Most of the time we don't have to turn anyone away."
The barbecue is one of the key fund-raisers for the Lions Club, Aytes said.
It provides the club with the resources to help those who are under-privileged.
There are two other fund-raisers that the Lions Club hosts. Adding to the proceeds from the $5 and $6 a plate dinner, the club also raffled off a barbecue grill.
This year's barbecue was one of the better ones. The Lion's Club served 654 meals Saturday.
"We did pretty good," Jones said. "There are no final figures yet, but we made more enough to fund our projects. This is one of our better years in the past 20 years."