Day campers try out skills
Approximately 160 girls gathered together for a Girl Scout Day Camp, which ran from Thursday to Sunday, at Camp Tongawood.
The theme for the day camp was careers, according to camp director Dennis Bean.
The girls listened to a pharmacist, senator, police, sheriff, firefighters and EMTs speak about their careers.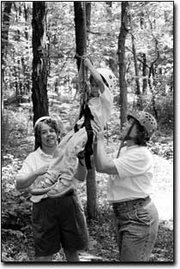 Beside meeting people from various professions, the girls were able to do many fun and interesting activities.
There was craft time, quiet time in the individual units, cookouts, shots at flying down the zipline, wall climbing, archery, web searching and other activities to keep the girls busy for the four days. And, the weather was never a problem. Camp went on as scheduled, minus the expected high temperatures.
"The girls seem like they have really had a good time," Bean said.
Ziplining, in which the girls wore a harness attached to a pulley, was one of the most-loved events.
Some of the girls were a little scared and needed a little coaching in making the zip.
Some girls camped overnight with their troops, away from the actual camp.
One troop even spent an evening cooking foil dinners and pies, playing in the water and stargazing.