Doolittle Farms: Nature's retreat
Stirrings of nature rise to greet visitors at Doolittle Farms.
The quiet country air carries sounds of crickets chirping and leaves rustling. Every now and then the trill of a red-wing blackbird breaks into the sanctuary of a summer day and, then, as the bird swoops into the cover of cattails at the bank of a pond, the hush returns.
Within the 80-acre plot of ground that is basically left to nature's habits, in a kitchen on a hillside two women stir blackberry jam on an eight-burner stove. This kitchen is one of the land's few modern conveniences this, and a spacious new lodge complete with central air and heat, and hot showers.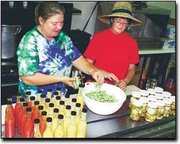 To arrive at this place where they work each day, Cathy Hawes and Betsy Faubion, owners of Doolittle Farms, merely hike about 200 steps from the ranch house near the farm's entrance up a gravel-covered drive.
Work consists of doing whatever needs to be done. Because the demand for canned goods, such as homemade salad dressings, jams and relishes, brings in most of the farm's revenue, that comes first.
"Last year the demand for our canned goods increased by 500 percent," Hawes said.
Buyers include area health food stores and visitors at arts and crafts fairs. Last week the women were preparing extra batches of jams and salad dressings to take to the Amelia Earhart festival in Atchison.
Hawes, who said her father, Dan Hawes, former Leavenworth County sheriff, purchased the land in the 1960s, built the lodge herself last year. She started from scratch, first checking out construction books at the library.
Then, she hired workers who could offer professional advice and assistance. But much of the work she did herself.
"I was raised by the kind of people who believe that if you can do things for yourself, that's what you should do," Hawes said.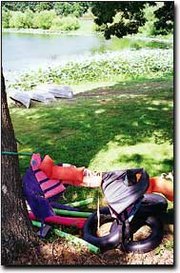 And so, she learned how to build buildings.
Not bad for a woman who grew up in the confines of the Leavenworth County Jail.
"Those were the days when the county housed the sheriff and his family in the jail," Hawes said. "My mother cooked the meals for the prisoners and I did their laundry."
One can easily understand, then, why her parents purchased land outside of town. It was the perfect get-away spot, not far from town, but remote enough to leave the jail behind. Her father built a modest fishing cabin and even allowed young Kathy and her brother to camp there in the summertime.
In 1995, Hawes and Faubion decided to purchase the 80 acres from Hawes' mother.
Because Hawes had already developed a following for her canned goods, they decided to continue doing that.
Meanwhile, Faubion, who holds a master's degree in counseling and psychology, continued working in the city. About a year ago, when the lodge hall was completed and the farm opened for business, Faubion stopped working at her other job and now works with Hawes at the farm full time. Since the lodge opened a year ago, the farm has been host to weddings, retreats and even a bluegrass music festival.
This project is a continuation of her father's dream, Hawes said.
"When I was a little girl, my father used to talk about the lake," she said. "He envisioned the lake with cabins around it where people could go for rest and relaxation. My father didn't get to do that in his lifetime, so I'm doing it."
Faubion said they hope eventually to build 15 cabins on the property. She also mentioned that visitors would be welcome to bring their horses for trail rides.
Hawes, who at one point in her lifetime seriously considered being a nun, said that spiritually, sometimes she thinks she hasn't strayed very far from that.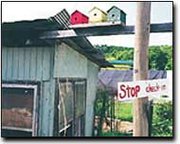 For instance, to her, the farm is a place where people who might otherwise not have the opportunity can come to know nature and to experience peace through nature. This is especially important for children, she said. Not only do they have the opportunity to walk some six miles of hiking trails and to swim in ponds, they also get to help with the work.
"When kids come out here and help grow and pick the vegetables and do things they can't otherwise do, I watch them and I can see that they're so thrilled," Hawes said.
"That's the peace of it that's what this place is all about."