Leavenworth County Commission, Third District
Republican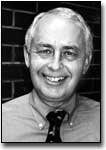 What are the top three issues facing Leavenworth County, and how would you address them, if elected?
First and foremost, Leavenworth County Commission as a whole must learn to run county government like a business, reducing wastes and inefficiencies; thereby, getting the biggest bang for the taxpayers' buck. Secondly, we need to seek alternative revenue sources rather than using business personal property tax and real estate property tax as the fall back for all funding. This is important to encourage business growth, assist our county residents in maintaining their homes, and to encourage an equal sharing of the tax burden amongst those who derive benefits. Thirdly, the commission must implement a strategic planning process for fostering managed growth and increasing the taxpayers' quality of life. Through implementation of the above, the commission is positioned to address all issues facing Leavenworth County.
As an example: County infrastructure is in a sad state of affairs because of neglect over the years. Leavenworth County is far behind in providing adequate roads, sewers, and bridges. The answer is linked to a strong strategic plan to ensure an immediate "catch-up" takes place while implementing a long range plan to ensure future provisions. Strong financial analysis and review of the budget is a crucial factor in effectively addressing these critical needs.
Do you favor hiring an administrator for the county? Explain your answer.
I support hiring a professional, qualified county administrator and strongly endorse reducing the salary of the Leavenworth County commissioners to help fund the administrator position. Given the background of the county administrator issue, the best way to make this decision is by a vote of the citizens of Leavenworth County.
A professional administrator would be generally tasked with providing day-to-day guidance, supporting and assisting departmental heads, coordinating county efforts to ensure efficiencies, overseeing the budgeting process, ensuring implementation of county commission policies and county, state and federal laws within county government, identifying future growth needs, promoting the county, seeking ways to retain and attract new businesses within the county, closely working with the commission to ensure proper coordination and communication.
What unique qualifications do you have to handle the job of county commissioner?
My education, budget, planning and leadership experience prepared me for serving as a county commissioner. I know and understand the issues affecting Leavenworth County and have built good working relationships within the county. I understand and appreciate running a business, the necessity for matching expenses with revenue, planning and budgeting and utilizing all resources. As a Lansing Council member I've worked with Leavenworth County officials, city administrators and council members within Leavenworth County, businesses, county agencies and the school district in a joint and cooperative manner, demonstrating skills in working effectively for the good of the community as a whole.
What steps should be taken to increase cooperation among county commissioners?
I have a reputation for getting the job done in a cooperative and innovative way. Commissioners will work together when the benefit to the county is demonstrated on any given issue. Voters have the opportunity to elect representatives who have proven their cooperative track records, who are known to work for the common good.
What role should the county play in expanding the area's tax base?
Expanding the tax base is a crucial role for commissioners because tax base expansion means an increased quality of life for Leavenworth County citizens. We must not continue to raise property and business personal property taxes or we will stifle our growth and the welfare of our citizens. Rather, we must look to new means of revenue through promotion of the county growth, efficiency measures and use taxes which properly apportion the expense to those who derive the benefit.