Leavenworth County Commission, Third District
Democrat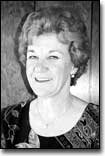 What are the top three issues facing Leavenworth County, and how would you address them, if elected?
Understaffing of the Sheriff's Department. I would review the present budgets and see wherever possible to get more funding for the Sheriff's Department. Also, I would search all federal grants and state funds possible. I know it takes lots of time but would be very valuable to get all monies available. Also, we need to review with the sheriff to see what it takes to get the very best for Leavenworth County.
Improve roads. Our roads are the same as 1968 when we moved to Leavenworth County. With all the new building the last 32 years we should have more funds available for road improvements. I would also like to see what available federal and state grant monies are possible. I would be happy to be involved with researching and writing grants.
Courthouse remodeling. We should review the available space at the courthouse. We need to use every inch efficiently and wisely.
Do you favor hiring a county administrator for the county? Explain your answer.
I have been blessed to work with three excellent administrators superintendents of schools of Basehor-Linwood USD 458 and the OskaloosaSchool USD 341. I truly enjoyed working with them. As a commissioner, I would be happy to work with a county administrator only with the approval of the registered voters of Leavenworth County. The voters turned down the county administrator two years ago. We would need another vote for approval.
What unique qualifications do you have to handle the job of county commissioner?
Thirty-three years career in budget and finances. First for the Basehor-Linwood USD 458 and second with Oskaloosa USD 341 and now a private country club. I enjoy the challenge of budgets. I will be very open-minded and will research information as much time as needed. I work well in difficult situations and with difficult people. I have a positive attitude. I have always been able to work with boards of education and board of directors. I enjoy people and helping with problems.
What steps should be taken to increase cooperation among county commissioners?
Communication, respect for one another's views, and a positive attitude. I have recently visited with two of the current commissioners. Both assured me they are eager to work with me. We must politely listen to each other and make the best decision for the whole county. We must research each issue and be very open-minded to each commissioner's opinion.
What role should the county play in expanding the area's tax base?
We should encourage attractive new businesses in Leavenworth County. With the new race track in Wyandotte County, we should be able to draw new business to Leavenworth County. Also, manufacturing plants such as General Motors, etc. would be wonderful.