Publisher talks with chamber members
The owner of a Lawrence multimedia company told Tonganoxie Chamber of Commerce members last week that community spirit is alive and well in this city.
"It's obvious what kind of town Tonganoxie is," said Dolph Simons Jr., editor and publisher of the Lawrence Journal-World newspaper. Simons also is president of the World Co., which owns The Mirror and the local cable television company.
Simons pointed to the city's recovery from the May 11 tornado and the downtown redevelopment project as examples of Tonganoxie's tenacity.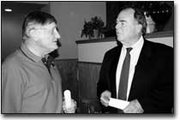 "The community spirit in Tonganoxie is tremendous," Simons told about 30 chamber members and guests gathered at Bichelmeyer's Steakhouse.
Simons said that his family's history in northeast Kansas and newspapers dates back to 1890s. From those early Kansans, he said, he learned many lessons.
"There's a danger of being too complacent," he said. "I don't think you can afford complacency."
To that end, the World Co. has pushed its newspaper ownership into Tonganoxie, Eudora, Baldwin and DeSoto.
"The goal here in Tonganoxie is to do anything we can to help Tonganoxie be a better community," he said. "What can we do to make Tonganoxie a better town that should be our goal."
One reason that Simons' family-owned business purchased The Mirror last September is the growth projected for southern Leavenworth County.
"Growth is sure to be one of the challenges for the people of Tonganoxie to figure out," he said. "I think growth is going to be a big, big question in Tonganoxie. What's Tonganoxie going to be like 20 or 30 years from now? What kind of planning can be done now? I'm optimistic about the future of Tonganoxie. I sincerely believe a newspaper can play a positive role in a community. We can encourage good things."