Leavenworth County Commission, Third District
Democrat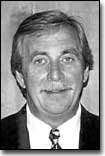 What are the top three issues facing Leavenworth County, and how would you address them, if elected?
The county needs an administrator for better county government someone with the knowledge and foresight to plan ahead and also oversee inventory, budgets and to promote new business.
We need more commercial business in the county. I believe a good administrator would be able to promote such growth.
We need to extend the one-cent sales tax to be dedicated only for roads.
Do you favor hiring a county administrator for the county? Explain your answer.
As I have indicated, I believe an administrator should be hired and the three county commissioners should lower their pay to help accommodate his or her salary, such as Douglas County has.
What unique qualifications do you have to handle the job of county commissioner?
I have been a county commissioner for three and one-half years. It takes at least two years to get acquainted with the issues that need addressing.
What steps should be taken to increase cooperation among county commissioners?
All commissioners should work for all the districts in the county, instead of just the districts that they are voted into and stop the "good ol' boy" system.
What role should the county play in expanding the area's tax base?
We need to encourage more commercial business, to create economic development, to expand the tax base. We can no longer stay a bedroom community. We need growth.