Leavenworth County Commission, Third District
Republican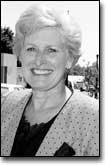 What are the top three issues facing Leavenworth County, and how would you address them, if elected?
The number one issue facing Leavenworth County today is a "lack of revenue." Continuing to depend on property taxes alone to generate all of the revenue isn't wise, since more than 40 percent of the property valuation in the county is off the tax rolls. A countywide sales tax, without a "sunset," would guarantee a permanent revenue stream that would help finance major public improvements, including another important issue the road and bridge program. All consumers pay sales tax; while only we property owners pay property taxes. A sales tax is the best way to take advantage of the economic impact of the soon-to-be-opened NASCAR track in western Wyandotte County.
The road and bridge program is a major issue, but continuing to work well with KTA, KDOT, county governments in Johnson, Douglas, Wyandotte and Jefferson counties and local interest groups is a big priority. When revenue is spent for road and bridge improvements it needs to be spent wisely and fairly throughout the county. The southern part of Leavenworth County is developing rapidly, without the needed infrastructure to support it.
Another issue is the lack of a long-range plan. A long-range plan is an important tool in any business, without it; most likely your business will fail. Managing a county is a big business, so how can you do it without adequate long range planning you can't! Developing a comprehensive long-range plan will be one of my first priorities as county commissioner of the Third District.
Do you favor hiring a county administrator for the county?
Yes, I am in favor of hiring an administrator. I feel the county would benefit from the expertise of a professional administrator who is educated and trained in management practices, state and federal laws and mandates. Day-to-day operations would be managed by the administrator; therefore, enabling the commissioners to have more time to concentrate on important issues and to be more accessible to the citizens.
What unique qualifications do you have to handle the job of county commissioner?
Good communications skills; good listener; people person, enjoy working with organizations and groups; enthusiasm; experience with long range planning; experience with budget preparation; experience with managing employees.
What steps should be taken to increase cooperation among county commissioners?
If there is respect and trust among the commissioners, the cooperation will follow.
What role should the county play in expanding the area's tax base?
The voters need to be asked to approve a new county sales tax, without a "sunset," that will take effect when the current 10-year countywide sales tax expires. This needs to be addressed as soon as possible.
The commissioners need to work cooperatively with the city councils, LAD and the area chambers of commerce to bring new businesses to the county.