Shannon Pulkrabeck beamed as she modeled the pajamas she was about to complete.
The 12-year-old turned, looking carefully in the three-way mirror at the tie-dyed sleepwear she had constructed during a "Snack and Stitch" class at Tonganoxie Junior High School's Summer Enrichment Academy.
Shannon, who will be an eighth-grader next year, planned to wear her new creation during a family cruise to the south Caribbean.
The weeklong class was a natural for Shannon.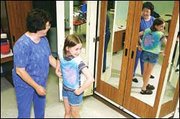 "I like to sew and eat," she said, grinning.
Vickie Hughes said her class had been a real hit with students.
"They don't even want to stop for snacks sometimes," said Hughes, who teaches Family and Consumer Science at the junior high.
Zach Ditty, the lone boy in the class, said his creations included a pillow to prop himself on while watching television and a pair of elastic-waist pants.
"We cooked some pizza, and we made some drinks, and we made chocolate-chip cookies," he said.
The students in this class, along with other Tonganoxie junior high and elementary school students enrolled in Summer Enrichment Academy classes, discovered this summer that learning can be a blast. The three weeks of classes provide an opportunity for youngsters to learn in a relaxed setting.
"It's something fun for the students, beside the straight academic classes," said Debbie Holloway, a high school English teacher who worked with junior high students as they created shadow boxes, magnets and flipbooks using photos they had taken or had cut from magazines.
"This is just some fun things for them to do, to be a little more creative."
At Tonganoxie Elementary School, third-grade teacher Sara Saunders and her young charges immersed themselves in Caribbean culture. The students learned about several nations in the region, creating travel journals, then made flag necklaces, and decorated wooden houses as well as colorful pots.
"We're just having a great time," Saunders said. "It's been a lot of fun. This is the best teaching ever."
Down the hall, at a "Writing with Arthur" class, children were putting pencil to paper, concentrating on stories that they later planned to illustrate with a drawing. They even wore yellow shirts, red bow ties and brown paper glasses as they worked, so they resembled Arthur the aardvark, the central character in a series of children's books.
During the weeklong class, Kathie Riddle, who teaches first grade, worked with the children as they read Arthur books, drew pictures and even designed a book cover.
"Now they're writing their own story," Riddle said. "They've done a really nice job."
Jacob Bogartz, 7, said he was drawn to the class.
"I love Arthur," he said. "And he's my favorite storybook character."
Jacob's story centered on dinosaurs, a favorite topic for the soon-to-be third-grader.
"I like dinosaurs so I figured why not write a story about dinosaurs," he explained. "I thought maybe I could put stuff in my story that I know about, like lava from a volcano."
Riddle is ready to teach again with Arthur's help.
"It just all fell together really well for me," she said. "I'm going to save this file. It worked out really well."