Relay takes on cancer battle
Stopping cancer is what it's all about.
And to prove their point, cancer survivors and teams of others who wanted to raise money for cancer research spent Friday night walking at Tonganoxie's second annual Relay for Life.
Jerri Cooper, organizer of the event that originally was scheduled for May 12 and postponed because of the May 11 tornado, said Friday's event raised more than $19,000.
She attributed the decline from last year's event, which raised more than $26,500, to the delay necessitated by the tornado.
For this year's walk, held at Reusch Memorial VFW Park, participants signed up in teams. Some came complete with tents decorated with themes that ranged from patriotic to Hawaiian.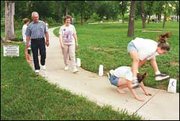 And all came with positive attitudes.
Joan Robinson, Easton, is a two-time, 20-year cancer survivor.
"It's 20 years for thyroid cancer and 10 years for colon cancer," Robinson said, as she walked with her daughter, Denise Bixby.
Her positive attitude appears to have helped herself, as well as others.
Robinson volunteers as a cancer hotline counselor through the Bloch Cancer Management Center. People from around the globe call the hotline.
"My first call was from a Russian man and I could hardly understand what he was saying," Robinson said.
It's important to understand what cancer is and what it means, Robinson said. Just because someone has cancer doesn't mean it's time to give up hope, she said.
"It's a disease, not a sentence," she said.
Another walker with a positive outlook was Wayne Rahija, 51, an eight-year survivor of non-Hodgkins lymphoma. Tall, fit and trim, he looked as healthy as any of the other walkers.
Rahija said physicians initially detected his cancer after he found a lump on his groin.
"When we couldn't get rid of it with antibiotics, they took a biopsy and found it," he said.
Other than when he was undergoing chemotherapy, Rahjia said he's felt great.
But Rahija recently learned that his cancer is out of remission. He said he plans to begin his participation this week in an experimental nuclear medicine study in which radioisotopes will attach to his antibodies. The goal is for the radioisotopes to target and kill the cancerous cells.
Alan Lister, 50, Tonganoxie, dodged smoke from the sausages he was cooking on the grill as he talked about his cancer.
"I should be a dead man," Lister said. "But I ain't."
Two and one-half years ago, tests showed that Lister had advanced throat cancer.
"I never did feel bad," he said. "If it wasn't for the physical lump on my neck, I never would have known it."
Lester's chance of survival was one in 10, said his wife Jetta Lester. He underwent both surgery and chemotherapy.
"At his two-year checkup, Alan's doctor was surprised the cancer hadn't come back," Jetta Lester said.
"I tell them he's too stubborn to die."
Jetta Lester said it's important for a cancer patient to take life just one day at a time.
"They need to not give up or quit, to be stubborn and to have faith in God and that's a fact," she said.
Cooper said that 35 survivors participated in this year's Relay for Life, along with the many other volunteers who participated and helped in other ways.
One of the relay's more lively groups was organized by Becca Weston, 14.
Cooper praised Weston for her work.
"It's wonderful to see young people getting attention for doing something good," Cooper said. "Becca started at the end of April, got 10 of her friends to help and here they are. Plus, she's already planning to participate again next year."
Becca Weston, who has a 10-year-old friend who was diagnosed with brain cancer three years ago, said her friend encouraged her to set up a team. Weston said the work was well worth it.
"We had a blast," Becca Weston said, noting that her friend who has cancer also participated. "We ended up winning the award for most enthusiastic group so we were happy."