Teams continue high scoring
Town rivalries highlight week of blowout play
It was a typical week for the Kaw Valley summer softball league. Scores were high.
"We play with a lot of other communities," said Mark Zerrer, director of the Tonganoxie Recreation Committee.
But not all of Tonganoxie's high scoring was done against other communities. In fact one of the biggest blowouts was between two Tonganoxie teams.
When Sertomas took on Community National Bank in the 11-12 age division on Thursday, town pride was on the line.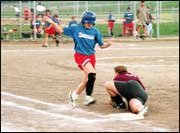 "This was kind of a rivalry for us," said Community National Bank coach John Sturgis.
But, Sturgis said, it turned into more of a learning experience for them.
His team, which started the summer 3-0, had been on a slide the last few games, and the game against Sertomas was no exception.
His leadoff hitter was put out at first. His second batter was struck out.
And while the third batter hit a triple and stole home giving his team first blood, it was rare blood, as Sertomas pitcher Ali Pistora went on to strike out the fourth batter and send Community National Bank to the outfield.
In the 11-12 age division, a team is finished batting when it reaches five runs in an inning. Sertomas' first five batters scored. The score was 5-1 at the end of the first, and Community National Bank got no closer, losing the game 15 5.
"The biggest thing we learned in the game was to keep our heads up no matter what" Sturgis said.
Double plays are rare in this age division but Sammie McDaniel broke the norm when she caught a fly ball in center field and threw out the runner on second base.
Sertomas had 11 hits in the game. The pitching tandem of Kalie Hileman and Ali Pastori allowed only four hits and four bases on balls in the game.
Sertomas went on to win beat the other Tonganoxie team, River City Gardening, 16-7 Monday. In that game Sertomas slugger Kelley Stauch hit a home run.
Also on June 19, Community National Bank, recovering from the loss to Sertomas, beat Basehor, 19-4.
"Hopefully we're back on our winning streak and will do Tonganoxie proud," Sturgis said.
In other softball action, Midwest Carpet shut out Lansing, 10-0 on June 15 in the 9-10 age division. Also that night, Rising Sun construction beat Basehor, 17-3.
In the 7-8 age division, Henri Masonic Lodge beat Linwood, 11-10 on June 15. Later that night Triple Creek Realty lost to Bonner Springs, 11-2.