Young children introduced to kindergarten
Dena Espeland was jealous of her 8-year-old brother, Jason. He was allowed to attend school this summer, but she wasn't.
So the 5-year-old begged her mother, Dawn Espeland.
"She wasn't going to be coming to the Summer Academy, but when her brother came on Monday, she was mad," Dawn Espeland explained, as she watched her daughter at play in a Tonganoxie Elementary School kindergarten room.
So her mother enrolled her in the school district's new Pre-Kindergaten Academy. The academy is designed to ensure that young children enter kindergarten ready to learn. The instructors say they hope this pilot project will show that by introducing some children to the concepts of school during the summer that they will have success once in kindergarten.
"I think it gives them an idea of what it's going to be like, so they're not afraid," Dawn Espeland explained.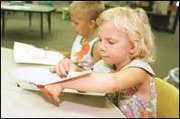 For Dena, school is an exciting and interesting place.
"We play a lot," she said. "We do stuff."
"I like the coloring," said her partner-in-play Nick Sprowls, also 5.
"So do I," Dena said.
"I like to play with the alligator in the blue box over there," Nick said.
"Look at that! I made an 'L,'" Dena said, holding up her plastic blocks.
Denise Newson said her 5-year-old daughter, Ashley, thrived in the pre-kindergarten session.
"I brought her more for the social aspect," Denise Newson said. "She's mainly been at home with me. She's first in line at our house for everything."
So learning the fine art of sharing is important. And so is ensuring that Ashley is confident about entering school in August.
"Not having older brothers and sisters, she's not really familiar with school," her mother said.
It's likely that this pilot program, which concludes this week, will be offered again next summer, said Jerry Daskoski, elementary school principal.
The three-week pre-kindergarten session grew out of an in-service meeting in January that teachers had with Tiffany Hogan, a speech pathologist at Children's Mercy Hospital. In the academy, 19 students enrolled to work with three teachers on speech, motor skills, writing, socialization and listening. Much of the work done in the pre-kindergarten academy
"I think they'll feel better about themselves," said Connie Minton, kindergarten paraprofessional. "We're already seeing that."
And the other two instructors Denise Smith, kindergarten teacher, and Ann Taylor Title I reading specialist also are receiving rewards.
"This is fun for us," said Denise Smith, kindergarten teacher. "We are excited about it. The children are delightful. What we hope to generate in these kids is the excitement of the school in the summertime."