To the first-time visitor, the Circle S Ranch may come as a surprise.
It is only after turning off the gravel road, rattling across the cattle guard and trailing along the hayfield-bordered drive for about a quarter-mile down the lane where the high ground dips into a valley, that a visitor sees the area's newest dude ranch.
And this location, about 21 miles from Tonganoxie by mostly paved roads, or about eight miles on mostly gravel roads, is where an ordinary Kansas ranch goes public.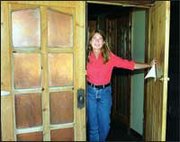 Mary Stevenson, owner, who has lived there all her life, probably knows this land better than anyone. The fifth generation of her family to live on the Jefferson County land, Stevenson took over the cattle operation on the 1,200-acre ranch about the time she graduated from McLouth High School.
The farm had been purchased in the 1860s from the railroad by her ancestor, Fillmore Stewart.
Stevenson, 33, is a tall slender woman with long strawberry blond hair and emerald green eyes.
Today she is wearing jeans and a coral shirt. From the shade of the wide veranda that stretches across the back of the lodge, Stevenson points out area landmarks, the grassy area in the trees where visitors have chosen to hold weddings and even baptisms and a large barn where informal dances and parties are held. As she speaks, a herd of bison grazes at the top of a ridge.
The farm northwest of Tonganoxie has grown since her ancestors bought the land 140 years ago.
"It's doubled in size every generation until this one," Stevenson said. "But I don't think it's going to double in size with this one."
However, the income that used to come from raising cattle now comes from greeting tourists at the door.
"About 12 years ago, Arden Booth, who started KLWN radio, suggested that I do a dude ranch, like Prairie Woman Adventure," Stevenson said. "It's an all women's retreat near Matfield Green."
"I told him he was out of his mind."
But Stevenson already owned the land, and she knew she liked to entertain.
"I've always had lots of friends and family out here," she said. "It just seemed like a good idea."
Five years later, she began working with the Kaufman Foundation and acquired a small business loan.
First guests
Construction began in 1996 and on May 1, 1998, the first guests checked in.
"It was trial by fire," Stevenson recalls, smiling, her green eyes sparkling.
"We opened with a wedding. The groom's family was from Philadelphia and the bride's family was from Lawrence. They had never met. And here they were with the open ranch and cultural shock."
She laughs.
"They should have warned us. On the first night they said it was too dark and they just weren't used to all this open space. And it was too quiet for them no cars. But on the second night they all sat out here on the porch and they loved it."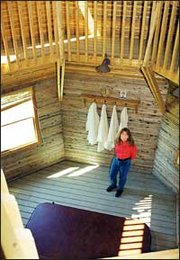 Designed as they went
Stevenson credits Tonganoxie builder Jack Cronemeyer for the way the ranch turned out.
"We designed it as we went along," she said.
"We had an architect give us the dimensions and Jack decided what materials we'd use and what things would look like."
From the outside, the guesthouse resembles a large barn complete with gambrel roof and attached wooden silo. The two-story silo houses a hot tub.
"Jack's grandfather had built silos in this area, some of them are still standing, so Jack went out and looked at one and he made this one to look like it."
Out on the porch
Another distinctive touch Cronemeyer added includes a wide-plank veranda that stretches across the back of the guesthouse.
Stevenson said she'd initially planned to have a concrete porch floor, but said when Cronemeyer put the wood down, it seemed to be a perfect fit for the ranch look.
One of the two guest bedrooms on the first floor has a two-sided fireplace, one side facing into the bathroom. Just a few feet away is a large tub with the walls above it made out of corrugated tin roofing material.
Throughout the 12-unit, three-story guesthouse, all of the rooms carry a western theme, all designed by an interior decorator. Stevenson said there were times that Cronemeyer and the decorator had different ideas of what would work, but said that things always turned out well.
Currently, the ranch has about 40 paintings by Linwood artist Ernst Ulmer. Guests staying at the ranch and those who have dinner reservations on Thursday, Friday and Saturday nights are free to peruse the gallery, and, yes, even to purchase the paintings.
James Truscello, chef at Circle S, smiles as he prepares an evening's meal.
"I get to plan the menu, purchase the food, clean it , prepare it everything," Truscello said.
"It's just like at home. Only here I call it a job. But it's probably one of the best jobs I've ever had the people are wonderful, the scenery's beautiful."
Holy smokes!
Stevenson and Truscello agree that the seemingly remote location takes people by surprise.
"Some people have hardly even ever driven on a gravel road before," Stevenson said.
Truscello describes the ranch as "a getaway that's only 10 minutes up the street from Lawrence."
But that 10-minute drive can seem like another world when the country lane turns into a drive and the drive dips over the hill to reveal the sprawling guest ranch.
Or as Truscello said:
"People get to that point and they say holy smokes, what's all this doing out here!"