Rains delay games during busiest month
All of the 13-14 age division baseball games scheduled for June 20 were rained out and will be rescheduled for a later date, said Mark Zerrer, Tonganoxie Recreation Commission director.
So far, only one has been rescheduled. Tonganoxie Realty will take on Basehor at 6:30 p.m. Thursday at the fairgrounds.
But if all the make-up games turn out like last Thursday's game between First State Bank and Trust and Lansing, then Tonganoxie fans would rather all games go as scheduled.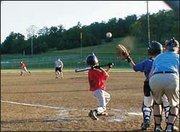 In Thursday's game, a Tonganoxie team in the 13-14 age division, First State Bank and Trust, was shut out 13-0.
The game had been rescheduled from its original May 23 date due to damage caused by the Tonganoxie tornado.
But the Tonganoxie team was vanquished by a Lansing team that has shown few chinks in its armor this summer.
"They've been one of the top teams in the league since the beginning," Zerrer said.
On Friday, Tonganoxie Realty beat Basehor 11-3.
In the 11-12 age division, games were as close as they have been all season.
"We had some good games because the teams were evenly matched," Zerrer said.
On June 20 Mr. Goodcents beat Linwood 7-0. Later that night City Ford beat Quarles Trash Service 10-3.
Quarles Trash Service also dropped a game on Friday to First State Bank and Trust by a score of 7-3.
That same night, City Ford also won another one, this time the score was 10-6 against Mr. Goodcents.
Games in the 9-10 age division managed to avoid being rained out last week.
On June 20 Leavenworth County Co-op beat Knights of Columbus 11-5.
In the second game, which ended just before the torrential downpour, Midwest Health Center beat Himpel Lumber 6-5.
On Friday, Knights of Columbus, recovering from its loss earlier in the week, handed Himpel Lumber its second loss of the week.
That same night Leavenworth County Co-op, coming off its strong victory earlier in the week, was beat 12-3 by a strong Midwest Health Center team, which won its second of the week.
The 7-8 age division had its second tie of the season on June 20, when the Tonganoxie Recreation Commission-sponsored team and Linwood both scored five runs.
"It's pretty rare, and the tie will have some bearing for the tournament," Zerrer said.
In the event of a tie, a half-game is added to the win column and to the loss column of both teams.
Zerrer said that team records were close in the 7-8 age division and that the difference between a half and a whole game could make the difference between a team getting a good or a bad seeding in the end-of-season tournament, which will begin on July 11.
Also on June 20 Evans Real Estate beat Kaiser Slawson 5-2, and Dr. Richard E. Dean beat American Family Insurance 10-6.
Kaiser-Slawson lost another game on Friday when Linwood outscored it by 12 runs, winning by a final score of 15-3.
In a close game between two Tonganoxie teams that night, Tonganoxie Recreation Commission beat Dr. Richard E. Dean 10-8.
There will be no games played next Tuesday, which is July 4.