Chieftains fall to Jaguars
DeSoto's Mill Valley High School ended Tonganoxie's plans to play in the Class 4A state soccer championships on their home field.
In a game Tuesday afternoon in DeSoto, the Chieftains lost to Mill Valley, 0-1, on a second-half goal.
Tonganoxie's strong defense and Mill Valley's offense battled throughout the match.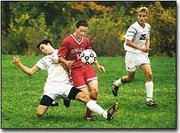 Mill Valley now advances to the state semifinals, which will be played Friday on Chieftain Field in Tonganoxie. Tonganoxie's coach praised his players' work ethic.
"I think this was a great year," said Coach Harold Pittman. "We worked hard and never gave up."
Mill Valley had about four times as many shots on goal during the game as Tonganoxie. Chieftain goalkeeper Dave Gepner proved to be a brick wall, stopping shot after shot. One finally slipped past him. Tonganoxie caught fire in the game's closing minutes, but DeSoto stopped them.
"Both teams had an opportunity to score," Pittman said. "They just were able to get one through."
After winning its two regional games, the Chieftains took an 11-6-1 record and a five-game winning streak into Tuesday's game in DeSoto.
The team's first-round game was Oct. 24 at home against Sumner Academy.
Chieftain Field was muddy that day. The pre-game cloudburst left no doubts as to where the field's low spots were. But the mud didn't seem to bother the players.
Overflowing with confidence after beating league powerhouse Mill Valley in its second to last regular season game, the Chieftains tore through the field like monster trucks.
The team beat Sumner Academy 7-0, to advance to the second round at Maranatha last Thursday.
Against Sumner, the Chieftains dominated, keeping the ball almost completely out of Sumner's hands. The result was almost no shot attempts for Sumner and several every minute for the Chieftains.
Senior Ryan Lowe took care of three of the scores with a hat trick.
Seniors Scott Breuer and Mark Gepner, and juniors Thomas Dodge and Dustin Shultz were responsible for the other four goals.
Lowe had an assist in the game, as did seniors Chad Bradley, Kyle Rodell and Mike Andrews.
The Chieftains were too much for Sumner Academy, which forfeited the game with 9:53 left.
The Chieftains then traveled to Maranatha on Thursday and came home with a 3-0 victory.
But the game was a close one until the very end.
Both teams played good defense for most of the game, and the score was 1-0 Tonganoxie at the break.
The Chieftains were able to score in the first half on a team play initiated by a header from senior Mark Gepner and finished with a tap in by senior Chris Ruff.
Both teams played solid defense for most of the second half, but Tonganoxie's offense broke through and scored two more goals at the end.
Andrews and Breuer scored the last two goals. Freshman Jacob Walker assisted on Breuer's score.