First season memorable for coach
Looking back at his first season as head football coach, Mark Elston recalled several high points.
Senior Ryan Lowe's 50-yard, homecoming-night field goal against Parsons on Oct. 6.
Sophomore Troy Morando's run against Piper at the end of the first half on Oct.13.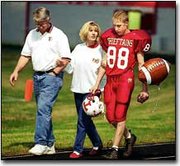 Senior Kyle Wedel's interception against DeSoto on Sept. 22.
Senior Jimmy Walker's interception against Parsons on Oct. 6
Senior Roger Robinson's hard hit against Piper on Oct. 13.
Senior Ron Crook's tough defensive effort in the Piper game.
Junior Joseph Sledd's remarkable Piper game, in which he carried the ball 44 times for 276 yards.
Senior Willie Altman's 75-yard punt return for a touchdown and interception in the Chieftains' homecoming victory against Parsons.
Senior Patrick O'Hare's block in the Parsons game which helped open up a lane for Altman.
Senior Joey Holek's interception against Immaculata on Sept. 8.
Senior Bryan Breshears' excellent play against Piper.
Senior Ryan Bernard's first time ever carrying a football.
Junior Lucas Frantz's continually improving play as linebacker.
Freshman Luke McCarty's dramatic improvement during the season.
Senior Tony Miller's hard hit against Pembroke Hill on Sept. 15
Senior Ryan Lowe's 60-yard, out-of-the-endzone punt against Santa Fe Trail on Sept. 29.
The enthusiasm and support of Chieftain fans, coaches, parents and other athletes on the sidelines at the Santa Fe Trail game.
Elston said the most memorable moment of the season came early, during the team's third practice, when the players poured their hearts into a pride-filled set of Chieftain jumping jacks.
"They might have heard it all the way in Jarbalo," Elston said. "It dang near brought tears to a coach's eyes."