Reading Recovery builds lifetime skills
One little word kept giving first-grade student and new reader Braden Abramovitz trouble.
While reading aloud, every time he came to the word "the," he stopped.
So Deniece Wakeman, his Reading Recovery teacher at Tonganoxie Elementary School, focused in on that. For the next few minutes, Braden practiced building the word "the" with magnetic letters, practiced writing the word "the" and selected the word "the" from other words on scraps of paper.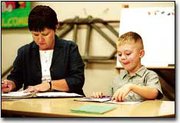 The next time Braden came across the word "the" while reading out loud, its pronunciation came back to him like a long-lost friend.
This is what Reading Recovery is all about, Wakeman said.
"Each lesson is individually tailored for the child," she said.
Reading Recovery is a 12- to 20-week program targeted at first-grade readers who need extra help in learning to read.
"The goal for him is to be an independent reader and to learn reading strategies that will help him understand new text," Wakeman said.
The Tonganoxie school board this year approved Wakeman, a local teacher for 28 years, to train to be the elementary school's Reading Recovery teacher leader.
This means that after Wakeman's one-year of training at Emporia State University, she will be qualified to train teachers from other districts to become Reading Recovery teachers.
Currently, Wakeman spends one and one-half days a week in training at ESU. Part of the training involves sitting behind a two-way glass, watching other Reading Recovery instructors work with students.
The training also involves studying.
"By the end of my training, I will have read 50 books," she said. The training focuses on research that studies the best ways to teach reading and writing.
For Braden Abramovitz, who Wakeman said could read five words at the beginning of the semester, the work is paying off.
"Now he knows 42 words and he can write without help," she said.
Braden's mother, Lia Abramovitz, said she is thrilled that Braden is in the Reading Recovery program.
"I think what they're doing is wonderful," Abramovitz said. "He was struggling and he hated to go to school. I think a lot of it was because he couldn't read."
Abramovitz said she had read to Braden since he was an infant, but when it came time for him to learn to read, he had difficulty. But his seven weeks in Reading Recovery has made a difference, she said.
"Now he comes home from school and reads to me," Abramovitz said.