Santa's giving touch
Local couple find ways to share spirit of Christmas
There's an extra person staying at the home of Tim and Pam Volk this holiday season.
Mathias, a 5-foot-tall Santa with sharp blue eyes, a snow white beard, black mink coat and red shawl leans on his cane near the fireplace.
At first glance, his wrinkled face and stooped demeanor make him look like a neighborly gentleman come to call.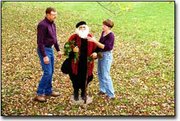 But this "Santiersman" is merely one of the many creations of the Volk family. On the floor by the window a 2-foot-tall Santa rides in a canoe, bags of Christmas toys at his side. He, too, wears a mink coat. Another in a corner stands on a snow-covered base.
Each of the Santas has the grandfatherly look of a wizened outdoorsman.
"We strive to get a kindly, gentle look on the face," Volk said. "I want them to look outdoorsey and rugged, but I want them to have the look of the giving spirit that Santa has."
The Volks are accustomed to selling Santas through their woodcarving and craft business, "The Master's Touch." But Mathias, the first life-size Santa they have made, likely will prove more difficult to part with. After all, he bears an uncanny resemblance to the portrait of Pam's grandfather, "Grampa Nightengale," that hangs on the parlor wall.
In fact, in today's world of assembly line Santas, it is this real human essence of the faces that makes the Volks' Santas unique.
Pam starts by making the head, smoothing blobs of polymer clay over an aluminum foil base. Some faces are easier to sculpt than others.
"Like everything else, sometimes it goes together and sometimes it doesn't," Volk said. "Sometimes you can sit down to work and his face comes out of the clay."
This is a time-heavy project. As in real life, faces aren't built overnight. Once the visage meets her approval, she starts her Christmas baking by putting the mass of sculpted clay into the kitchen oven.
About 30 minutes later, Santa's head is cooked.
It's a little eerie, she admits, pulling a head from the oven. But soon after that, Santa starts to take shape.
The Volks fashion the body by making a frame out of PVC pipe, taking care to make the arms and legs proportionate to the head and trunk.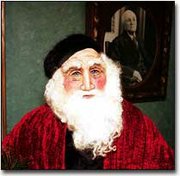 Because each Santa that Volk sells wears a fur coat, the Volks scour antique shops for used mink coats.
Volk takes the fur coats apart and resews them, by hand, into coats for her Santas.
"If I can, I do it on the porch, or I do it in the house with a vacuum cleaner beside me," Volk said.
Her children give her their opinion on how to dress the Santas. One of the boys let her know in no uncertain terms that the footwear she'd chosen didn't fit with the costume.
He merely walked through the room and said, "Lose the shoes," his mother said.
Another son walks through the woods finding hardened vines and curved sticks to use for canes.
Tim Volk, who is a woodcarver, carves something for each doll. On Mathias, it's a small bird on the top of a walking stick.
During the 12 years since the Volks have been making Santas, Pam Volk said they've made and sold three or four a year.
Each Santa can take up to a month to create. Before beginning, Volk usually knows what the theme will be. From there she decides the details as she goes.
Volk, who is a self-taught sculptor, and who also learned something about carving from watching her husband, said it's the process that amazes her.
"You watch the whole thing from start to finish," she said. "It's like a little part of you."
And as for the lifesize Santa Mathias, his realism even throws her off.
"He does just kind of startle you when you walk into the room," Volk said. "You just kind of feel the presence."