Quiet on the Sunset
Film crew descends on Tonganoxie motel
Ari Rose knocked on the door of a movie-set dressing room.
"They're ready for you on set, sir," he said one afternoon last week.
Josh Ackerman stepped out of the trailer and headed across the parking lot toward a room at the west end of Tonganoxie's Sunset Motel.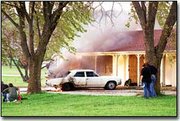 Nearby, dozens of crew member waited. It was the quintessential Hollywood set complete with directors in tall deck chairs reading scripts and issuing orders.
About three weeks ago, producers and directors approved the Sunset Motel, owned by Pat and Martha Ragan, Lawrence, as a location for the shooting of a motion picture, "The Painting." Linda Baska, Lenexa, a freelance agent who locates people, places and things for advertising agencies and commercials, brought them to Tonganoxie.
Their original intent was to run across a rundown farmhouse with an adjacent pond.
They didn't find that. Instead, for use in another scene, they found the Sunset Motel.
"They loved this location," Baska said.
The motel was the perfect place to shoot scenes from a 1950 to 1960s motel, Baska said.
"We were looking for older buildings that weren't too gingerbready," Baska said.
They selected the ElRancho Motel in Eudora and the Tonganoxie motel, both owned by the Ragans.
"Eudora's look was nice and clean," Baska said. "And this was the same way too with the Sunset."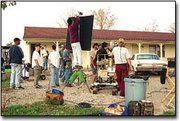 Part of Tuesday's filming consisted of having an actor carry a suitcase from a motel room and put it in the trunk of a car. Later, the special effects crew prepared a car and materials for the scene in which a car parked in front of the motel would explode.
Baska said that because the motel is across the street from the junior high school, she first consulted with the school superintendent.
"I talked to Dr. Erickson and he asked that we wait until after 4:30 to set off the bomb, when all the students are gone," Baska said.
On hand for the blowup were Tonganoxie police officers who rerouted traffic on U.S. Highway 24-40 for about 10 minutes prior to the explosion.
Also present were about a half-dozen area residents who brought vintage cars to serve as props. Ernie Miller was paid $50 to bring his 1951 Chevy from Winchester for the afternoon.
Ron Barker, Tonganoxie, said he brought his 1965 Ford pickup truck to the Eudora filming, which was shot earlier that morning. A relative of his, John McLaughlin, Kansas City, Kan., who was helping round up props for the film, had called and asked Barker to participate. Barker was filmed driving a 1967 GTO down the street. Barker's granddaughter, Amanda McLaughlin/Dent, 13, who lives in Tonganoxie and who is McLaughlin's daughter, also worked as an extra in the filming.
Baska said some of the other locations where filming was done included the Nelson-Atkins Museum of Art, Kansas City, Mo., a mansion in Mission Hills, and the Kansas City Museum, Kansas City, Mo. Last Friday they were scheduled to shoot on a farm near Weston, Mo.
On Oct. 31, film crews arrived in Tonganoxie around mid-morning. Shooting got under way around 3:30 p.m., and technicians blew up the car about 90 minutes later.
On standby at the location during the car bombing were Tonganoxie city firefighters. Immediately after the explosion, a firefighter climbed on the roof of the motel and extinguished small pieces that had landed on the roof.
Janet Riley, who with Darren Terry manages Sunset Motel, said crews had completed shooting and left the area about 9:30 p.m.
"I think it went off really well," Riley said. "I was very pleased with the school district, the police department and fire department. Everybody who was out here did a tremendous job."
Riley said she enjoyed being around the crew and cast.
"I greatly appreciated Linda Baska and all the crew members, they were very polite and respectful and even the stars were very nice," Riley said. "If they ever wanted to come back to our town and film another movie, I honestly believe we would open our doors to that."