Tonganoxie family takes to the skies
The seven-story-tall nylon hot-air balloon billowed skyward as Danny Mathia prepared for liftoff. Dwarfed by the blue and white nylon balloon, or envelope as it's called, Mathia turned on the burner, sending flames roaring into the interior.
Mathia loosened the ropes that had anchored the basket to the ground. Within minutes, he was aloft, drifting to the south.
"See you in about 40 minutes," he yelled to his wife, Caroline, and sons, Joshua, 18, and Jack, 17.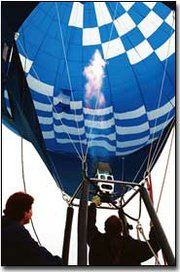 A self-professed "airhead," and a lifelong flight enthusiast whose grandfather flew planes in the 1930s and 1940s, Mathia said he likes to ride with the wind.
"It's real smooth," he said. "There's no feeling of movement because you're moving with the air flow. You're one with it. You even could light a candle and it wouldn't flicker because you're moving with the wind."
Mathia and Caroline purchased their first hot-air balloon, a 900-pound Cameron Z-90, in January. A month later Mathia began taking flying lessons from Chris Tantillo, a commercial hot-air balloonist from Topeka.
His goal: To eventually work full time as a commercial and competitive hot-air balloon pilot.
Mathia, who works at the Harley-Davidson assembly plant in Kansas City, Mo., said he's previously flown ultralight aircraft, but until this year, he hadn't flown a hot-air balloon.
"It's something I've always wanted to do," he said.
Their sons like the flying, Mathia said.
"They were at the age where Mom and Dad weren't all that important," Mathia said. "But now they love to fly and we do it as a family. The crew is the really valuable part of it because without the crew you really can't fly."
While he's in the air, his family is on the ground.
"They're always chasing us," Mathia said. "They're always right there with us. We're in touch with each other with the radios. Also, we have a spare tank of gas in the trailer."
The biggest challenge of flying is finding the time to do it, he said.
"It's difficult to schedule the lessons around working full time and the weather," Mathia said.
This year, the Mathia family flew in hot-air balloon fests in Albuquerque, Tulsa and Iowa.
Mathia said he expects to obtain a commercial balloon pilot license next spring. Then, he'd like to hire out for rides. The going rate for balloon rides in the Kansas City and Topeka area ranges from $155 to $175 per flight per person.
This could help cover costs of getting started. The price of balloons runs from $5,000 to $50,000, he said.
"An average balloon would be in the neighborhood of probably $20,000, and then you need equipment, a chase vehicle, inflator fan, radios, training and insurance," he said. "The list goes on and on."
Mathia said it seems feasible that he could build this hobby into a business.
"Seems like every time we set up or land, we're just drawing big crowds and the first thing people as is if we give rides," Mathia said. "I have to tell them no at this point, but soon we'll be able to."
After all, it's a great way to see the country.
"There's not a bad seat in the house," he said.