Daniels elected to county commission
Two men who will work together during the next four years on the Leavenworth County Commission pledged cooperation would be high on their agendas.
In last week's general election, Bob Adams was chosen for another four-year term from the Second District, and Joseph Daniels Jr. defeated incumbent Wayne Eldridge in the Third District. Don Navinsky, who represents the First District, was not up for re-election.
Both Adams and Daniels said this week that they believe the three commission members should work together to achieve their goals.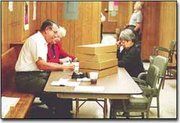 "I think there will be three commissioners sitting down at each and every meeting to discuss the issues to do what we need to do as a commission," Adams said. "I think it will be a better effort. I don't think Wayne put his best foot forward."
Eldridge often was on the losing side of 2-1 votes. And often he accused his fellow commissioners of doing the public's business in private.
"I'm glad to be out of it, I really am," said Eldridge, who will return to the business world in January. "I'm tickled to death to be out of it. I would never do it again. They just don't give a damn about taxpayers. I'm a taxpayer first and a county commissioner second."
Daniels said he would leave his county health department job in January, just before he's sworn in as a commissioner.
"This should be a team, and the team should work together," he said of his work with the commission.
The team not only includes commissioners, but also county employees and other boards and commissions throughout Leavenworth County.
"We need to cooperate with all of these bodies, all of these folks," he said.
Daniels has many ideas he'd like to bounce off other commissioners.
For example, he's interested in seeing if Leavenworth County can secure some of the water rights previously granted to Sunflower Army Ammunition Plant near DeSoto.
"More than one water district could share that," he said. "I think this is something that's crucial to development of the county 20 years from now."
In addition, he hopes the county can secure alternative funding state or local money, for example to help pay for improvements to roads and bridges.
It will be a balancing act, he said, to satisfy residents who want growth and those who would prefer it not occur.
Adams said he was pleased he was elected to his second four-year term.
"I knew there was a big effort out there to try to unseat me," he said.
Hank Spellman, who launched the challenge against Adams, said he was surprised that Adams pulled the election out.
"I just don't know where I went wrong," he said. "I had a lot of Adams supporters backing me. They called me."
For Spellman, who owns a Leavenworth restaurant with his brother, this is a second defeat by Adams.
In four years, he said, he might consider running for sheriff.
In another area election, Tonganoxie resident Mike Gibbens was defeated in his run for the Third District Kansas Senate seat being vacated by Don Biggs. Bob Lyon, a Winchester Republican, defeated Gibbens.
Lyon said his victory was a grassroots effort.
"We felt like we did do as thorough a job as we could, making as much personal contact with people," he said.
Between now and when the 2001 Legislature convenes in January, he said, he'll work to become better acquainted with issues and other state legislators.
"I can't really tell you any specific bill initiatives," he said.
In his campaign in Leavenworth and Jefferson counties, Lyon emphasized family matters, a renewed moral vision and responsibility in government, as well as education reform.
"As people are going to bring these issues up, I will be evaluating these in light of those principles and being consistent with that," he said.
Gibbens said he wished he'd had more time to plan his campaign.
"I wasn't going to get in this race because I felt Tonganoxie was too isolated to win," he said.
But at the urging of local Republicans, the Democrat threw his hat in the ring.
"As far as politics goes, the last time I ran I thought I'd never run again," he said. "This time, I won't say that. I don't know how or when I'd do it."
Gibbens also backed a failed effort to switch the selection of judges in Leavenworth and Atchison counties from an appointive to an elective process. That ballot question passed in Leavenworth County, but failed in Atchison County. The two counties make up the First Judicial District.
"It would have gone through had I not run for the Senate," he said. "We spent zero money on that campaigning."
He said that by bringing the issue to the fore, he's hopeful that more Leavenworth County nominees have an opportunity to serve as judges.
Leavenworth attorney John Tillotson, who was among those opposed to election of judges, said he and others against electing judges made about 40 public presentations on the issue.
"Sometimes you just have to work hard to beat down a bad idea," said Tillotson.
A countywide ballot question that was approved pleased Leavenworth County Sheriff Herb Nye. Voters OK'd a request from Nye that sheriff's officers' retirement plans be moved into the Kansas Police and Fire Retirement Fund. It's not clear yet what the move will cost taxpayers.
"I knew it would be a battle, and obviously we did a better job of informing the public that we thought we did," said Nye, who ran unopposed for re-election to a third term. "We were kind of pessimistic going into election night. I guess they understood what we were trying to achieve."
Now, the matter's up to the county commission to implement.
For County Clerk Linda Scheer, Election 2000 stretched well into the next day. Because so many candidates and ballot questions were included on Leavenworth County ballots, they wouldn't fit on one page. So counting them took about twice as long.
The count didn't finish until nearly 6 a.m.
"We actually had 23,000 voters," she said. "We had 46,000 papers going through there. We've never run that many through."
Although the voter turnout has been higher in past years, those ballots were only one page.
An electronic recount will be conducted today for the Lan-Del Water Board. Only four votes separated the second- and third-place vote-getters, Scheer said. Voters were to select two members to the board. The race involves precincts in Lansing and Delaware townships.