Junior high squads successful early in season
Tonganoxie's junior high school girls basketball team is off to a quick start this season, with the seventh- and eighth-grade A and B teams all posting an early season winning record.
Thursday at home against Monticello, the eighth-grade A-team girls were in control all the way. Jumping out to a 19-2 lead at the end of the first, the Warriors coasted the rest of the way, winning 39-12.
"We only had seven turnovers that's tremendous," Korb said. "The girls really passed the ball around well."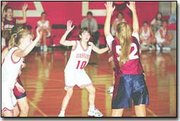 Madison Weller had seven steals and four assists. Jessica Bogard had five steals. Addie Heim and Casey Worden led the team in rebounds, each grabbing five.
The team had similar results in its Monday game here against McLouth, winning 34-14. Heim again led the team in scoring with 12. Madison Weller added eight for Tonganoxie.
The eighth-grade B-team also has been getting the job done.
Matching the A-team's 3-1 record, the team iced Monticello Thursday, beating the team 40-7.
The win marks the second time in a week that the Warriors have beaten Monticello. They beat the team in the first round of Tonganoxie's Nov. 4 tournament by a score of 17-8.
The eighth-grade teams next play 4 p.m. Thursday at Basehor-Linwood.
The seventh-grade A-Team won both of its games last week.
In its Thursday game at Monticello, Tonganoxie won 24-14, but the game was closer than the score indicates. Going into the third quarter, the Warriors trailed 8-9. But after the break, the team outscored Monticello 16-6 to take the win.
Kelly Stauch led the team with eight points and six steals.
On Monday, Tonganoxie beat McLouth 25-17 after grabbing more than 30 steals,
The team jumped out to an 8-0 first-quarter lead, and controlled the pace of play for the entire game.
The seventh-grade B-team split its two games last week.
On Thursday, Tonganoxie played close against Monticello.
Going into halftime trailing 10-12, the Warriors weren't able to put any points on the board in the third, and eventually lost the game 12-21.
But on Monday, the Warriors dominated, beating McLouth 26-8.
The team scored 18 points in the first half alone.
The junior high wrestling team has also had its share of early season success.
On Monday the team traveled to Leavenworth and beat both Leavenworth East and Pearson junior high schools.
The Warriors beat Pearson 5-7 and Leavenworth East 17-8. Coach Dean Moss said his team had a good meet.
"The experienced kids really showed a lot of talent, and the inexperienced kids showed that they were learning," he said. "I was really proud We had several kids get their first win ever."
For complete junior results from last week, please visit www.tonganoxiemirror.com