Lingering questions
32 years after he was a captive of the North Koreans, Steve Woelk hopes to find answers
It wasn't much of a 20th birthday for Steve Woelk.
The paint was peeling off the walls in the dingy cramped hospital room in Korea. Bedbugs crawled beneath his blanket.
Injured by shrapnel when North Koreans overtook the USS Pueblo and its 83 crewmen on Jan. 23, 1968, Woelk had drifted in and out of consciousness for weeks.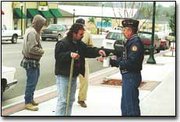 But he knew on that day that somewhere, someone would remember it was his birthday. And so, using the burnt end of a match, Steve Woelk scratched the date on the wall.
He didn't know it then, but 11 months would span the gap between capture and freedom.
Thirty-two years later, Woelk, who lives in rural Tonganoxie, says he doubts he will ever completely recover from the Pueblo incident. There are the physical effects the arthritis associated with his wounds, he said. And there are the psychological effects the rages of anger and bouts of depression. Today it's the unanswered questions that eat at him.
Essentially 'sitting ducks'
Why were the men on board the Pueblo left to be "sitting ducks?" he asks.
He asks why a formerly mothballed ship was sent, virtually unprotected, on a spy and surveillance mission in waters near North Korea. The ship had only two machine guns on deck and to reach them it was necessary to cross an open area, climb a 10-foot ladder and cross another open area.
And why, after it was all said and done and the men had been released, did the U.S. government try to make a scapegoat out of the ship's captain?
The capture
On Jan. 23, 1968, a one-inch thick layer of ice coated the ship's decks and wrapped thickly around the canvas covers that topped the machine guns. Radar had detected subs following the ship for several days. Crewmembers had noticed ships nearby.
But this time they came closer. As North Korean ships approached the Pueblo, the Americans were the targets of 57-mm rounds and torpedoes.
"And, two Russian MIGs were over us shooting missiles out in front of us to stop us," Woelk said. "They meant business they were out to get us."
Woelk, one of the youngest men on board and ultimately one of the most seriously wounded, would be struck by shrapnel while he was destroying documents in a hallway on deck.
The Americans didn't defend themselves.
"We couldn't fight," Woelk said. "We didn't have anything to fight back with."
At first he didn't think the situation was all that serious.
"I didn't know what to expect," he said. "I was a little na. I didn't know why they were out there bugging us. I thought it would all be over when the shelling stopped."
But Woelk was wrong.
"They were going to sink us," he said.
The North Koreans first neared the Pueblo and ordered it to stop and demanded they be allowed on board.
"We refused to stop, we kept going," Woelk said.
In the meantime, Pueblo crewmembers radioed for help.
Woelk was in the interior hallway when the explosion hit.
In an accounting of the incident, he wrote: "The force of the explosion and shrapnel blew me over backwards. Unable to move my legs, I felt this tremendous burning sensation in my groin and hip."
He pulled himself out of the hallway and after the ship had been boarded and taken over by the North Koreans, Woelk was placed on a dining table, atop a plastic table cover.
He recalls the torturous experience of being moved from the ship.
"Two North Korean soldiers, one at my feet and the other at my head, wrapped me up in the plastic cover and began dragging me and bouncing me down the passageways through the hatches," Woelk said.
He thought they would throw him overboard. Instead, they dragged him down to a pier and shoved him onto a bus with his crewmembers.
He was eventually housed in a small room with three other wounded shipmates.
Conditions were not good.
"Later in the week, the guards that came into our room would wear bandanas around their faces since the stench of infection, rotting flesh and blood was unbearable. Infection was now setting in."
Woelk said he was still lying on the plastic table cover.
"I had become stuck to the plastic due to the dried blood and yuck, which made moving virtually impossible," he said.
After 10 days, he was taken to a medical examining room where surgery was performed without anesthesia.
"I can still recall the scissors cutting away flesh and being sewn up with sutures that looked like kite string," he said. "A small handful of shrapnel was removed. I was told later that my screams could be heard throughout the building."
His condition worsened after the surgery, and four days later he was transferred to a hospital where he stayed for 44 days.
Deplorable conditions
After that, he spent the rest of the time in captivity with other crewmembers, suffering from the constant shortage of food, the threat of dysentery, filth and mean-tempered guards.
"There were some guards who would just as soon kill you as look at you," Woelk said.
And there was the constant worry they might not make it out alive.
Treatment worsened in December. Pictures taken of some crewmembers and sent to the United States showed them with their middle fingers outstretched. Crewmembers had convinced the North Koreans that this was a sign of good luck. But when a follow-up issue of Newsweek magazine explained that it was a rude gesture, crewmembers were punished.
"The North Koreans read Newsweek, too," Woelk said.
"Hell Week," followed. This can best be described as brutal treatment by the guards. Men were beaten routinely. They were forced to kneel on the floor with a board between their legs as the guards took turns jumping on the ends of the boards.
As quickly as Hell Week had begun, it ended.
"All of a sudden it stopped," Woelk said. "I still believe to this day that somebody was in the camp and saw how we were being treated."
Captors started tending to prisoners' needs, the beatings stopped and the food suddenly improved.
"I just feel that somebody was around and saw that, maybe it was a guardian angel, who knows just somebody who knew what was happening," Woelk said.
Several days later the prisoners were loaded onto buses and taken to the DMZ and allowed to cross the "Bridge of No Return."
"We had started out on the Pueblo with 83 crewmembers," Woelk said. "Eighty-two of us walked across that bridge."
And of his friend, who had been killed the first day, Woelk said: "They carried Duane Hodges across the bridge in a coffin."
Military honors
Since that day, Woelk has received military honors. He has been awarded with two Purple Hearts, two Navy commendations one with valor, Prisoner of War and Combat Action ribbon, an Expeditionary medal and a National Defenses medal.
Where was help?
Even so, the honors don't assuage the gnawing thoughts that remain.
"The military just didn't help us when we needed it," Woelk said, still asking why the USS Pueblo's radio calls for help on Jan. 23, 1968, were unmet.
And as to Capt. Lloyd Bucher's inquisition after the release of crewmembers, Woelk feels strongly.
"I'm bitter at the admiral in charge at the time for not doing more for letting Bucher take the hit at the time, for not admitting that they made some bad decisions," Woelk said. "Bucher's the one that was over there with us he's the one who saved our lives."
Woelk suspects that eventually, he'll learn more, as classified documents, which can be declassified after 30 years, are released.
Continuing effects
Meanwhile, repercussions from the 11-month nightmare linger. There are blasts of anger, he says, and depression for which he takes medication.
The medication cuts the edge off the melancholy, he says, but it doesn't make it disappear.
The arthritis from his wounds reminds him of the lowest points of his life.
Still, life has gone on for the 52-year-old Woelk. After he was granted a medical discharge, the Kansan who grew up in Alta Vista, south of Manhattan, enrolled in an electrical training program. He married, and he and his wife, Kathleen, have one son, Kelly.
Woelk currently works as a civilian electrical inspector, overseeing quality assurance on building projects at Fort Leavenworth.
On several occasions during the last few years, Woelk has attempted to be diagnosed as suffering from post-traumatic-stress disorder, but so far he has only been judged to have a 10 percent PTSD disability, which provides nothing in the way of disability payment.
Bargaining chips
Why the entire ordeal occurred remains a mystery to Woelk. He said the Russians wanted a decoding device that was on the ship, and he said he suspected the USS Pueblo was raided because of its apparent vulnerability.
But why did the North Koreans take the crewmembers as prisoners?
"The North Koreans knew they had us as a bargaining chip," Woelk said. "But what they got out of it, who knows we may never know."