Young
BMX

racer headed for national event
Though cloudy, sleet-spitting winter weather has moved into the area, there's nothing but blue skies in the forecast for Tonganoxie BMX racer Josh McCutchen.
The 11-year-old began racing just eight months ago, but on Thanksgiving weekend the McCutchen family will travel to Tulsa to see Josh compete in the National Race of Champions.
The invitational event is open only to the top 10 riders in each age group in each state.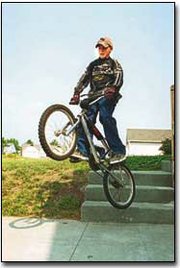 Making the cut is a lofty achievement that Josh hadn't thought would come after being in the sport for such a short time.
"It makes me feel really good," he said. "I was kind of surprised because I didn't think I would make it this season."
Josh began racing in March at the novice level. Competing in up to three races a week, he earned six wins in fewer than two months and moved up to the intermediate level in late spring.
Josh spent the first couple months at that level adjusting to the tougher competition and to a different bike.
After breaking his bike's frame about the time he moved up from the novice level, he missed several races.
The youngster ran some races using his brother's bike, but his start at the intermediate level was still hampered by not having a bike.
He had earned only two top-three finishes by the end of August.
But following the purchase of a back-up bike, the arrival of a new frame, and more race experience, Josh has torn through the intermediate field.
To date, Josh has earned 19 top-thee finishes at that level, including an Oct. 6 win at Topeka his first.
But much of his recent success has nothing to do with a bicycle. It has to do with riding one.
"He keeps gaining more speed," said Tammie McCutchen, his mother. "He's beginning to realize things like when to peddle hard and when to coast."
Though Josh has been successful, that success has come at a cost. And costs keep rising. Excluding the price of bikes, padding, helmets and other equipment, the sport still carries a weighty price tag.
The American Bicycle Association raised its yearly fee to ride at ABA-sanctioned events from $35 to $45 for next year.
That fee must be paid to race at the three tracks closest to Tonganoxie, which are in Topeka, Blue Springs, Mo., and Raytown, Mo.
In addition, the tracks charge a $7 or $8 entry fee per race.
But Josh is getting help from the Tonganoxie community to go to Tulsa.
Tonganoxie's First State Bank and Trust will pay Josh's $45 entry fee for the Nov. 24 race.
"We put together a resume," Tammie said. "He took it down there to them and they said they would be willing to sponsor Josh for the race."