Girls basketball looks beyond team
Coach helps players build camaraderie
This year's Tonganoxie High School girls basketball team is more than just a bunch of girls who play basketball together.
It's more like a family.
New varsity coach Leslie Foster said that she thought it was important that the players all knew and trusted each other.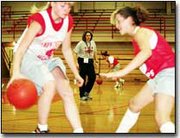 "I really want to promote the team being more like a family," she said. "I plan on us doing a lot of things together this year."
She said the team can be brought together by going out to dinner or attending college basketball games.
Junior player Andrea Korb agreed. She said that the camaraderie the team builds off the court could bring rewards on it.
"I think it's going to be really fun," she said. "It will be like being a family, because we'll learn to trust each other for help."
In many ways this season is more about reuniting a family than about building one.
This year's team only has two seniors on it. Much of the varsity playing time this year will go to a strong core of returning juniors.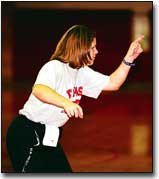 Besides playing together as seventh- and eighth-graders, the juniors also played together on the freshman team two years ago.
That team was coached by Leslie Foster.
Since then, some players have moved up to varsity faster than others.
Last year, two from that class were full-time varsity starters. This year, it's likely that, for at least a few games, Tonganoxie could start all juniors.
"Most of us played together when we were younger," said junior Aimee Eisman. "We were separated for awhile, but now we're back together again."
With a team of young and experienced players and a coach who has led them before and knows how they play, the future looks bright for the Tonganoxie High School girls basketball family.