Basketball, wrestling teams ready
As the high school winter sports season approaches, Tonganoxie teams are looking forward to their first games, all of which should be measuring sticks for the teams.
All three teams face season-opening matchups against schools that have a recent history of dominating the Kaw Valley League.
The girls basketball team's first game is against Immaculata, which Coach Leslie Foster said would be one of the Chieftains' toughest games of the season.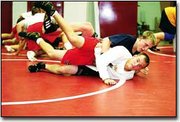 When Tonganoxie takes the court Friday for the game vs. Immaculata, it will be against a team that hasn't lost to the Chieftains in at least seven years.
But behind what could be the most talented Chieftain line-up in awhile, Tonganoxie has a good shot at beating Immaculata, which is one of Foster's goals.
Another team that Foster said would be a challenge is Santa Fe Trail, but the Chieftains don't go against that team until Jan. 5.
For the wrestling team, Santa Fe Trail is looming large and nearby. The Chieftains face the team at Santa Fe Trail on Saturday.
Santa Fe Trail has won the league the last three seasons and is returning several state medallists from last year.
Coach Bill DeWitt, said the meet would be an important indicator of whether some of the underclassmen on the team were catching on to the system.
"We have some older, more-experience kids and we have some younger kids," DeWitt said. "We'll just have to see if they are ahead or behind the curve."
Last year the Chieftain wrestlers finished third in the league, so this first meeting will feature a battle between two dominant league teams.
The boys basketball team faces the same plight as the girls team.
On Friday night, it also goes up against Immaculata, whose boys team is as strong as its girls team.
Last season, Immaculata beat the Chieftains by more than 30 points in each of the teams' two games.
Coach Mike Webb said the losses came, in large part, because the Chieftains weren't prepared, not because the Chieftains couldn't compete with Immaculata.
To ensure they are prepared this year, the Tonganoxie boys players have been working doubly hard. Unlike last year, this year's team has been putting in two practices a day.
"I'm not talking about winning and losing," Webb said. "But about being prepared, both mentally and physically."
The hard training might have taken a toll on the team, as early season injuries have started popping up.
Juniors Brian Gurss and Thomas Gilner, the Chieftains main two big men, have back problems.
Senior point guard Kyle Rodell has a pulled hamstring and could be out for two weeks. Brett Cruickshank has ankle problems.
Senior Matt Needham might have torn a ligament in his knee, and hasn't even practiced yet.
Webb said that he thought some of those players could be ready for action by Friday, but probably not at 100 percent.