Duo hope to paddle into record books
Tonganoxie native Jared Jellison is trying to go where no one has gone before or at least farther than anyone has gone before.
On May 26, Jellison and friend Robert Carpenter, Kansas City, Kan., set out to break the Guinness Book of World Record's mark for the longest continuous canoe journey. Though the trip has already lasted six months and 2,000 miles, the pair still have a way to go.
The record, set in 1983, stands at 28,043 miles.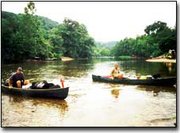 It took two Montana men more than three years to travel that distance. Jellison and Carpenter estimate it will take them four. During their journey, the two plan to do a figure eight through the United States, beginning and ending in Kansas City.
They began their four-year float canoeing south down the Missouri River. Since then, the two have traversed the Mississippi, the Current, the Rio Grande and a slew of minor creeks and tributaries.
They have also been forced to portage through quite a bit of rough terrain. On one instance the two men carried their two canoes 30 miles through the Ozark Hills.
The two have made it to the southern border and are currently on the Rio Grande near the city of San Luis, Texas.
They are traveling west, which is up-river. But paddling against the current much of the way isn't the only obstacle in the pair's way money is also a concern.
To pay for the adventure, Jellison, 26, and Carpenter, 31, lived with their parents for more than a year while they worked and saved money.
The two men are using their outdoors skills to make that money last, said Jellison's mother, Julia Jellison, Tonganoxie.
"They've pretty much lived off the land," she said. "They've been fishing and shooting game along the way."
In addition, the two have encountered many people who have lent them a helping hand.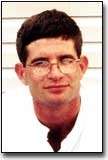 "A lot of people just fed them," Julia Jellison said.
Along the way, an elderly couple gave the men $30 for food. A Boy Scout troop from Minnesota shared its dinner and camp with the men for a night.
A man in Louisiana who rents out cabins and runs a restaurant put the two up in a cabin and fed them for several days in exchange for doing maintenance around the place.
"They just paddled up to the dock, got out and made friends with the guy," Julia Jellison said.
But, she said, any help anyone else wanted to offer would be appreciated.
"They're still hoping to get some sponsors well, sponsors other than their parents," she said.