Minister awarded 'renewal' grant
For a Tonganoxie minister, 2001 will be a year of learning and renewal.
In May, the Rev. Rick Lamb and his wife, Becky, will travel for three weeks in Israel. And in June, Lamb will attend a theological seminar in Southern California.
Both trips will be financed through an $18,411 grant from the Indianapolis-based Lilly Endowment Inc. Lamb is one of 118 clergy in 33 states whose churches have been selected to participate in the 2000 National Clergy Renewal Program.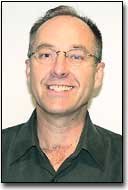 The year-old program is designed to allow ministers time to step back from their busy lives and replenish their energy and vision for ministry.
"I love doing it," Lamb said about his work at West Haven Baptist Church. "But you can get burned out."
For several years, Lamb said, he's joked with parishioners about a trip to Israel.
"I've told them, 'If I stay for 20 years you all are going to send me to Israel,'" he said. "Of course, I was just joking."
In fact, a couple of years ago his congregation offered Lamb a trip to Israel, but he decided the timing wasn't right because the church had other priorities.
When members of the West Haven congregation heard several days ago about Lamb's selection as a grant recipient, they were supportive.
"I love these people," he said. "I truly do. They have been so kind to me."
The 47-year-old minister said he's
eager to see Israel, which he mentions so often in Sunday sermons. The trip will be a study tour, designed by Trinity Evangelical Divinity School in Deerfield, Ill., where Lamb attended seminary.
Lamb will travel alone to Rancho Palos Verdes, Calif., for the seminar on "Spirituality and Ministry," offered by Fuller Theological Seminary. He anticipates it will be a time to reflect on his life's work. He believes that time will be beneficial for him and his congregation.
"I think I'm doing it as a preventative measure to help me keep from getting burned out," he said.
And that is the point of the program.
"The endowment cares deeply about the health and vitality of congregations," said Craig Dykstra, the Lilly Endowment's vice president for religion. "We seek to honor the high calling of pastors who do a good job of serving