Turnpike takes tolls westward
Today, milepost 217 becomes more than a wide spot in the road.
It is now the eastern toll plaza for the Kansas Turnpike.
Lisa Callahan, director of public relations for Kansas Turnpike Authority, said Monday that she expected the toll booths to open around mid-afternoon today.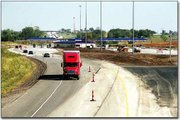 At about the same time, the toll booths at the former eastern terminal and the Bonner Springs terminal, located at milepost 224, will close.
This marks completion of KTA $8.5 million, 18-month construction project.
Michael Johnston, president and chief executive officer of the KTA, said, he decision to build this new plaza, together with the abandonment and removal of the present facilities was made after we learned of plans to build the huge motor sports racing facility nearby in western Wyandotte County.
Sammie Lukaskiewicz, Kansas Speedway public relations coordinator, said track officials are glad to see the opening of the new toll plaza.
ee very excited and thrilled, not only for our race fans, but for all Kansas travelers and commuters,Lukaskiewicz said. ith the race season getting ready to start in July, the opening of the eastern toll plaza will keep all of that race traffic from bottlenecking on race weekends.
The new interchange includes three entry-lanes where drivers will pick up tickets, six exit-lanes where drivers will pay tolls, and in the future two more lanes, dedicated for K-tag users, will be built.
For the time being, Callahan said, the two outside lanes, one entry-lane and one exit-lane, are dedicated for K-tag use.
The site, located in the center of Interstate 70 at milepost 217, includes the outside toll booths, as well as a building in the area between the eastbound and westbound lanes.
he building is the toll building, for the toll collectors and for the highway patrol,Callahan said.
Currently, there is a building for the same purpose at the old eastern toll plaza, which is off to the side of the highway.
The center area also includes employee parking and a small parking lot for commuters.
While toll booths at the Bonner Springs and the former eastern terminal will close, drivers who have K-tag will still be able to have their tags scanned at Bonner Springs.
ut the plaza there will no longer be attended, so we will not handle any cash customers,Callahan said.
She noted that the ramps to and from the turnpike at Bonner Springs will remain open.
he difference now is that cash customers heading west will not get their tickets until they get to milepost 217,she said.
Callahan noted that the cost of the $8.5 million project is paid by turnpike tolls.
here absolutely no tax dollars in the turnpike at all,Callahan said. o if you don use the turnpike, you don ever pay for it. It what we call a usersfee.