Two shutouts get the ball rolling
A shutout is always good.
But two of them are even better.
he defense is just playing excellent,said Harold Pittman, Tonganoxie High soccer coach. e had a shutout week.
On its way to the perfect week, the Tonganoxie High School soccer team beat Immaculata and Basehor by a combined score of 7-0 to increase its record to 5-3 in Kaw Valley play and to 5-4 overall.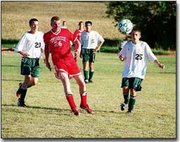 In its Sept. 26 game against Immaculata, neither team could get the ball in the net during the first half.
The Chieftain defense held strong throughout the game, but Immaculata didn, and the Chieftains found some offensive chemistry.
Pittman said the team had focused on keeping the ball in the offense possession to minimize wear on the defense, which had been taking some abuse recently.
The practice paid off. After a flurry of solid, quick passes leading to good looks at the goal, Tonganoxie won the game, 3-0.
On Thursday, the team traveled to the Field of Dreams to play Basehor-Linwood.
In that game, injuries had sidelined several key players.
Despite that, the team kept the ball in Basehor-Linwood territory for much of the game.
The Chieftains had many shots on goal, which allowed them to score four and keep their defense rested.
It paid off and Tonganoxie won the game, 4-0.
Pittman said he was proud of his team performance, especially because the team was missing four starters.
Senior defender Kyle Rodell has a hamstring injury, and senior midfielder Mark Gepner has a knee injury.
The toe of senior defender Ryan Lowe kept him from playing, and senior forward Mike Andrews was out with an ankle problem.
Pittman said he was pleased that his team stepped up to compensate for the loss of those injured.
He cited junior Dustin Shultz, freshman Jacob Walker, senior Jacob Hoffhines and senior Bryce Cooper for their superb defensive play in the game
Pittman is hopeful those injured players will be recovered this week because it a tough one for the Chieftains.
Tonganoxie plays three road games in four days.
On Monday, the team played at Ottawa. On Tuesday, the team played on the road against Perry-Lecompton.
On Thursday, the team plays in a Parents Night game against Lansing. The varsity plays at 6 p.m., and junior varsity team takes the field at 4:30 p.m. Thursday.