Volleyball team sets up day of strong plays
The Tonganoxie High volleyball team traveled to Ottawa on Saturday, and although the team lost its five matches, Coach Kelly Alexander said her team played well.
verall, everyone had good moments,she said.
Playing against several 6A school, the Chieftains made good plays all day long.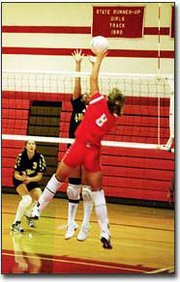 Aimee Eisman led the team in kills with 28. Andrea Korb had 20.
The team also served well, with Karley Bennett hitting 32 of 33 serves.
Keri Walker led the team in aces with six, and Kim Sturgeon had 16 serves for points.
Alexander said Nancy Milleret and sophomore Laura Samuels both played excellent games, trying to fill the void left by the big-time blocker Vanessa Wardy, who missed the game with a minor injury.
Samuels normally plays junior varsity, but was one of three younger players who played well in the tournament.
Freshman Katie Jeannin had six kills in the team match against Shawnee Mission West.
Another younger player, sophomore Christie Menhusen, had a good all-around game, Alexander said.
She said that the high level of play at Ottawa was good experience for the team.
ee just young,Alexander said. feel like the more competition we have, the better we get.
The team played Tuesday at Mill Valley and will play at 8 a.m. Saturday at DeSoto.