Chieftains 'Ice the Vikes'
After suffering three early season losses while the team and coach gelled, the Chieftain football has won three in a row.
Tonganoxie beat Parsons 10-0 in Friday's homecoming game. It was a game in which defense and special teams continued to shine.
Every time the Vikings moved the ball into Chieftain territory, Tonganoxie found a way to make them cough it up.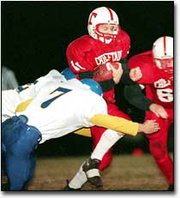 All told, the Vikings fumbled the ball away four times within 25 yards of the endzone.
During the game several fans and commentators had commented that the cold weather and a slick midfield were causing the fumbles.
However, unlike the Vikings, the Chieftains didn't repeatedly fumble the ball.
Tonganoxie coach Mark Elston said that the team had known Parsons had a recent history of fumbling. So the Chieftains were ready to exploit that.
"I don't think the weather had a bit to do with it," Elston said. "They fumbled the ball because we played great defense."
In the first half, both teams played good defense. The score was 0-0 late in the second quarter when senior Joey Holek broke loose on a punt return and moved the ball to the Viking 49.
After driving the ball to the 40-yard line, the Chieftains lined up to try a 50-yard field goal with 36 seconds left.
"It was real noticeable on tape," Elston said. "They (the Vikings) were snickering when we lined up for the field goal."
A few seconds later, the Vikings weren't snickering at all.
Kicking against the wind, senior Ryan Lowe sent the ball sailing through the uprights with five yards to spare.
The Chieftains went into the locker room up 3-0.
"Not only doesit give us tremendous confidence," Elston said. "But it also deflates the other team. They were in utter amazement ? stunned."
To start the half, the teams fought a back-and-forth battle for field position during much of the third quarter.
But the Chieftains found a way to break through.
With five minutes left in the quarter, senior Willie Altman, behind some excellent team blocking, busted through the Vikings' punt defense.
Altman returned the ball 75 yards for the touchdown.
The extra point was good, and Tonganoxie's defense held for the rest of the way, bringing home the 10-0 shutout victory.
With the defense stopping the opposition cold, special teams putting up points, and the offense controlling field position, the Chieftains seem to have found the right combination for success.
They take their 3-3 record to Piper at 7 p.m. Friday.