It's hard to remain perfect for very long.
The Tonganoxie High School soccer team, which was hitting on all cylinders in its last two games ? both shutouts ? sputtered a bit this week, winning one out of three.
In its first game of the week, an Oct. 2 make-up game against Ottawa, the team struggled on offense and lost the game, 0-3.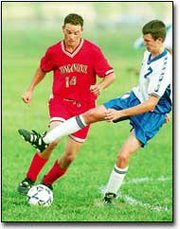 Ottawa allowed the Chieftains only seven shots on goal, while taking 22 itself.
Coach Harold Pittman said his defense did a good job, but was worn to a frazzle by the constant fire from the Ottawa offense.
But the next day at Perry-Lecompton, the Chieftains re-found their winning ways, ending at 4-0.
Coach Harold Pittman said his team's three shutouts in four games was the result of stifling defense, aggressive offense and a solid transition game connecting the two.
Against Perry-Lecompton, senior midfielder Scott Breuer had a goal and three assists.
Senior forward Rodney Lobb was on the receiving end of two of those assists, but he returned the favor, feeding Breuer for his goal.
Breuer's third assist went to senior forward Mike Andrews, who accounted for the last of the Chieftain's four goals.
That was the last goal the Chieftains were to score for the week.
On Thursday, Lansing beat the Chieftains 2-0, which means the Chieftains have played in five consecutive shutouts.
Against Lansing, Tonganoxie played well and had several shots at the net.
But as Chieftain scoring opportunities came and went, and penalty kicks came and went for Lansing, the game slipped from the team's grasp.
"We played a pretty good passing game," Pittman said. "We just missed on some shots."
Still, the future looks bright for the team.
Several players who had been nursing injuries have nearly recovered, and the team is almost at full strength going into its last few games before post-season play.
The team played Tuesday at DeSoto and will play at 4 p.m. Thursday at Piper.