THS

cross country team teaches young students
Tonganoxie's successful high school cross country team continued its efforts to get area youth involved in the sport last Wednesday when it sponsored the annual grade school cross country meet.
The event, in its fourth year, drew more than 150 Tonganoxie third- through sixth-graders.
High school coach Phil Williams said the purpose of the meet was to introduce children to a sport that typically gets little exposure.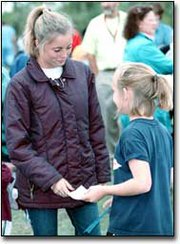 "Most of these kids, unless they have a brother or sister in cross country, have never even been to a cross country meet," Williams said.
In the one-mile race, different classes within the same grade level competed as separate school teams would at a regular high school cross country meet.
The higher a runner finished, the fewer points that runner earned. The individual points were added for each team, and the team with the lowest score won.
Mrs. Cooper's class won the third-grade competition, and Ms. Stephenson's class was the fourth-grade winner.
Mrs. Mark's fifth-grade class won its division, and Mrs. Burnett's class had the best score among sixth-graders.
Individually, John Emery won the third-grade race. He was followed by Brett Koch, Kenny Schultz, Nathan Stauch and D.J. Lindsay.
David Powell took first in the fourth-grade race, edging Matt Brock, who took second.
Finishing in third was Tommy Briggs, followed by Addy Phelps.
Chrissie Jeannin finished in fifth.
Travis Adcox and Jared Lamb finished one-two in the fifth-grade race, followed by Ashli Smith, Todd Brown and Keith Wentz-Hall.
The top five in the sixth-grade race were Daniel Volk, Alex Nowasell, Terry Crossland, Micheal Shaw and Shannon Smith.
Ribbons were awarded to all children who participated.