THS

enjoys homecoming festivities
The 2000 Tonganoxie homecoming theme, "Ice the Vikes," was evident at the parade and pep rally on Friday.
Friday's homecoming festivities opened with the parade. The junior high band jump-started the action, followed by the elementary school's choir. Five floats displaying this year's theme followed. The high school dancers rode down Fourth Street next. Then, the king and queen candidates driving mustangs, a BMW, a Volvo and a Trans Am pulled up and stopped at the intersection of Fourth and Bury streets for the pep rally. After the pep rally, several more floats and the high school band made the trek down Fourth Street.
During the pep rally, senior representatives from fall sports stepped to the microphone to talk. And of course, the football players were among these representatives, pumping up the crowd for the evening's big game to come. It all paid off when the Chieftains did indeed "Ice the Vikes" during the homecoming game, winning over Parsons, 10-0.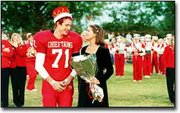 Before the game, the homecoming king and queen were announced.
The king finalists were Jacob Hoffhines, Jimmy Walker and Bryan Breshears. The queen finalists were Aubrey and Ashley Mikijanis and Becca Mills.
Jimmy Walker and Becca Mills were chosen for the royalty.
"I was thinking 'Oh my gosh, are you serious?'" Mills said referring to when they called her name. "I was so surprised. I wasn't expecting it at all. It means a lot to me and was very thoughtful of everyone who picked me."
Mills said a good-sized crowd attended the dance Saturday.
"It went really well," she said.