Chieftain runners push into 1st place at Kaw Valley meet
Theres no place like home.
At last Thursdays Kaw Valley League meet in Tonganoxie, that fact was no more pronounced than in the varsity boys race.
Though Mill Valleys Griffin Lee won the race, he was the teams only finisher in the top eight as Tonganoxies total team effort overshadowed that individual performance and won the day.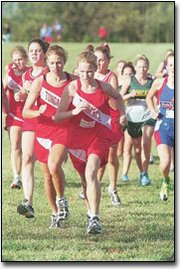 The Chieftains beat second-place Mill Valley by 29 points, placing every runner in the top 20 X four in the top eight.
I was pleased with our overall performance at the meet, said Coach Phil Williams.
Finishing behind Lee for second and third were Tonganoxie runners Kyle Norris and Alan Davis.
Norris ran the 3.1-mile course in 16:56, and Davis ran it in 17:15.
Though finishing third, Davis time was significantly off the pace of his course record of 16:15, which he set at the Tonganoxie Invitational a few weeks ago.
Alan Davis was a little disappointed, said Williams. I think he thought hed do a little better. He still ran well, though.
Williams said wind also was a factor in the days slower times.
Sophomore Tommy Powell finished next for Tonganoxie, taking seventh with a time of 18:08. Junior David Saultz, who ran the course in 18:17 to take eighth, followed him.
Junior Nathan Bailey finished in 14th with a time of 18:36, and senior Matt Needham took 18th with a time of 18:57.
Sophomore Tony Aligo, who was home sick the day before the race, finished in 19th with a time of 19:03.
The girls also had a strong finish at home, taking third in the team competition.
Individually, sophomore Laura Korb was Tonganoxies high finisher, running the two-mile girls course in 12:51 for fourth place.
Junior Alicia Stauch came in next for the Chieftains, taking 16th with a time of 13:42. She was followed by junior Erin Seymour, who finished in 21st place with a time of 14:01, and senior Kristin Korb, who took 24th with a time of 14:14. Junior Sarah Mages took 26th, running the course in 14:23. Aubrey Mikijanis, a senior, finished 33rd with a time of 14:42, and junior Cara Langston took 39th with a time of 16:02.
But if varsity runners were good in their races, junior varsity runners were dominating in theirs.
Freshman Elizabeth Smith, who has been improving all season, blazed her way to second-place in the junior varsity race. She ran the course in 14:56.
In the boys race, Tonganoxie crushed the competition, taking the win as well, as the next three places.
Junior Bryan Gurss led the way for the Chieftains, taking first with a time of 19:14. He was followed by freshmen Ben Brest, Tyler Davidson and sophomore Brian Gravatt. Brest ran a 19:34, Davidson ran a 20:30, and Gravatt ran the course in 20:38. Sophomore Josh Dowdle finished in 11th place with a time of 23:25, and sophomore Justin Palmer finished in 14th with a time of 23:53.
Kyle Norris, Laura Korb, Alan Davis and Tommy Powell made All-League at the meet.