For the children
Program pairs adults with Basehor-Linwood students
The spirit of volunteerism at the Basehor-Linwood school district has long been strong.
And it just got stronger.
This semester, YouthFriends, a 5-year-old organization that started in the Kansas City area, is taking root in the Basehor-Linwood schools.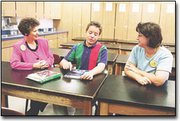 The YouthFriends program fosters a mentoring relationship between adult volunteers and school students from age 5 to 18.
Mary Leonard, along with Tammy Potts, both of Basehor, together have spearheaded the organizational project.
Leonard, who said shes long been a proponent of having adult volunteers in schools, first saw the need six years ago when her daughter was ill and missed five weeks of school.
She was back and forth at the school almost daily picking up her daughters homework.
I realized there was a need for volunteers in the school, Leonard said.
So at that time, she gave up her job to volunteer at the school.
Eventually, she went back to a paying job again, but returned to school again last year to volunteer.
It was a vision of mine to bring more volunteers into the schools, particularly at the high school and middle school levels, Leonard said.
One day her husband saw a YouthFriends flier.
He handed it to me and he said, I think this is what youre trying to do at the high school. Leonard said. I said, Yes indeed, thats exactly what Im trying to do.
Basehor-Linwood already had a good base of volunteers, Leonard said, with about 80 participants. She said she felt that there should be more of an organizational structure to strengthen the volunteer system.
She started planning this last spring, and when school started in August, volunteers were ready.
YouthFriends supplies recruiting materials and does a screening process, which means all volunteers are run through a criminal background check and a child abuse and neglect check. Further, YouthFriends supplies needed materials to carry out the program.
Leonard smiles when she speaks about the program. Shes already hearing success stories, she said.
Its wonderful when you realize that working one-on-one with a caring adult can help a student, she said. Studies have shown that their attention improves, knowing that their YouthFriend is going to be there, Leonard said, and that the person thats helping is somebody thats going to hold them a little more accountable.
While YouthFriends does do some tutoring, the main impact seems to come from mentoring the student X being someone in a students life who doesnt have to be there and who doesnt have to care X but who is there and who does care, Leonard said.
Belinda Kraemer met with eighth-grader Jesse Flannagan at the Linwood Middle School last week. Kraemer has been doing school volunteer work for eight years.
The first part of any mentoring entails getting acquainted, Kraemer said.
You get to know your student X you form a trust and a bond, Kraemer said. Then work on things the students need, if they have a test coming up, things like that.
As far as getting the program going, Leonard said she and Tammy Potts have been putting in 60-hour weeks.
So far, there are about 90 YouthFriends volunteers whose applications are in progress, or whose applications have been completed, Leonard said. About 70 of those applicants were already volunteering in the school district. Leonard said her goal, eventually, is 100 YouthFriend volunteers.
Again, she stressed that Basehor-Linwoods volunteer system is not new X its just that some things have now changed.
It was good in the past, Leonard said. But its better now.